From www.CompleteCityGuides.com
http://www.CompleteCityGuides.com/blog/country/thailand
Please tell your friends about this page! Facebook message them this page so you can find it when travelling!
Thailand Blog Posts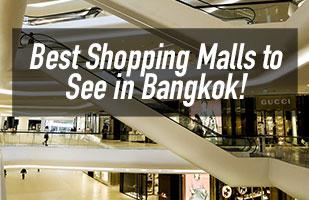 Bangkok is famous for its huge shopping malls. Here is a guide to what ones to make sure you visit when you are in Bangkok
---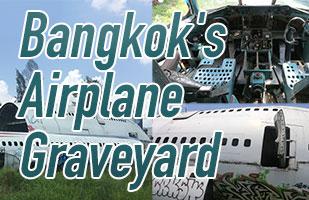 15-20km from the city center of Bangkok is a large field that is known as the "Bangkok Airplane Graveyard". After finding the entrance and paying the families (who live there), you are free to wander around the remains of several huge planes. Read more to find out the types of planes, how to pay, how much to pay and how to actually find it!
---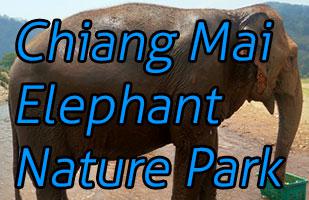 Thailand is famous for its elephant related tourist attractions. However many of these involve cruel training methods or cruel elephant rides. "Elephant Nature Park" in Chiang Mai is an elephant sanctuary that seems to really care about their elephants. Read on to find out about our trip to the Elephant Nature Park, and find out what we think of it and how they treat their animals
---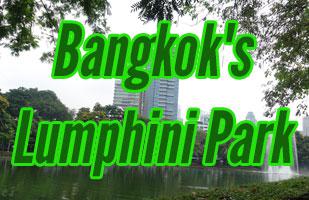 Lumpini Park is often called "Bangkok's Central Park" - just, you know, with big scary looking Monitor Lizards! Read on to find out about what you can get up to in Lumpini Park, and how to get to Lumpini Park. And of course, important information to know about those scary looking reptiles!
---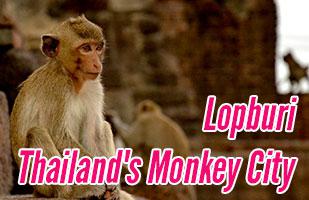 Lopburi is Thailand's famous 'Monkey City'. The city is around 150km (93 miles) northeast of Bangkok, and is home to hundreds of macaque monkeys. It is a popular tourist destination, and if you love animals then it is well worth seeing.
---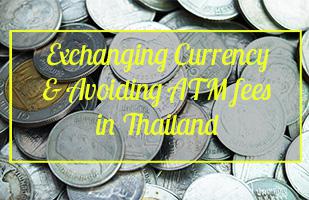 Thailand is famous for having high fees when it comes to exchanging money or withdrawing from an ATM machine. So what can you do to avoid wasting money on fees? Well, read on to find out!
---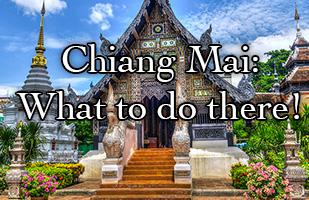 Chiang Mai is the biggest city in northern Thailand, with over 170,000 in the city itself but over 1 million in the surrounding area. It is surrounded by beautiful mountains, jungle and countryside. With its good travel links (with an international airport there) it is a very popular tourist destination for anyone visiting Thailand who wants to get away from the capital or the islands. Read on to find out what you can do in Chiang Mai!
---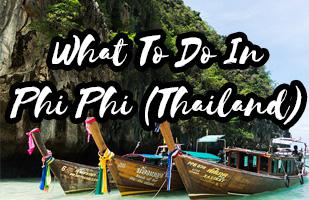 Ko Phi Phi is a small archipelago of six islands in Krabi Province, Southern Thailand. It is probably one of the most beautiful places on earth, and attracts many tourists every day. This is a guide on everything you need to know about the Phi Phi islands!
---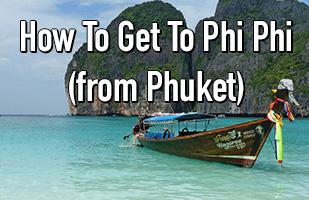 The island of Phuket is Thailand's second most popular tourist destination (after Bangkok), and nearby is another island known as Phi Phi. There are lots of confusing webpages giving false or outdated information about how to get to Phi Phi. This page clears up every option and tells you how to get to Phi Phi from Phuket.
---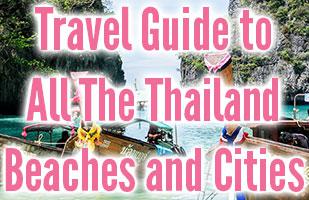 When people backpack or travel around Thailand, they often start in Bangkok. But where should you head? What is there to see and do in Thailand other than Bangkok? Read on to find out in this ultimate guide to all the other places you can see in Thailand.
---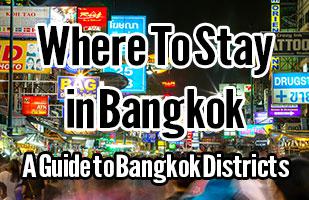 Bangkok is a huge city, with over 8.2 million people and spans 606 square miles. So when you are booking a trip to Bangkok, how do you know where to stay? Well this guide will explain all and give tips for each area.
---
---
Be the first to know about our other top travel tip blog posts: