Guide to Bangkok's Airplane Graveyard
15-20km from the city center of Bangkok is a large field that is known as the "Bangkok Airplane Graveyard". After finding the entrance and paying the families (who live there), you are free to wander around the remains of several huge planes. Read more to find out the types of planes, how to pay, how much to pay and how to actually find it!
It isn't a real tourist attraction. We haven't seen any other tourists there when visiting, and you pay some baht to a small family that lives in the same area.
This isn't a company, and you might make the trip out there and then be refused entry.
How to find and get to the airplane graveyard in Bangkok
Use any information on this page at your own risk. There are some very important things to know about the graveyard:
It isn't a real tourist attraction. They don't have insurance, they have no workers, no one will help you if you have an accident.
The planes could move, there is lots of scrap metal (parts of seats, etc) there. It would be really easy to fall and have a big accident.
We read online that the family can be a bit aggressive - but our experiences with the graveyard was the complete opposite, we have never felt any hostility.
It is kind of in the middle of nowhere. There were lots of long grass, a few swampy and muddy areas, it would be easy to fall.
Basically - use this information at your own risk and understand that this isn't a 100% safe thing to do.
Also it is unsuitable for wheelchairs etc.
We last visited in March 2018 - please check recent web posts elsewhere for recent updates
The graveyard is around 15-20km from the center of Bangkok. There are two main ways to get to the airplane graveyard:
By taxi
Obviously this is the easiest. Just book a taxi (or use the Grab app, etc.) and tell them that you want to go to 594 Ramkhamhaeng Road/Ramkamahaeng soi 103.
However, you should consider the other way to get there -
By canal
If you haven't taken the canal ferry, you should consider checking it out! The route takes quite a while, but it is really cheap (20-40 baht per ticket). You will different parts of the city on the way, and honestly it is just quite fun in these little canal ferrys.
Click the button below to reveal info on how to get the ferry
Show details about how to get the ferry...
Once you have arrived, how do you get into the airplane graveyard?
There are two options - front gate and back entrance. As far as we are aware it is ok to enter by either entrance. But make sure you find the family and pay them (more on this later).
From Wat Sri Bunruang Pier area:
There are two ways - we have always taken the back entrance (blue line). You will walk past the planes, and have to go and find the family.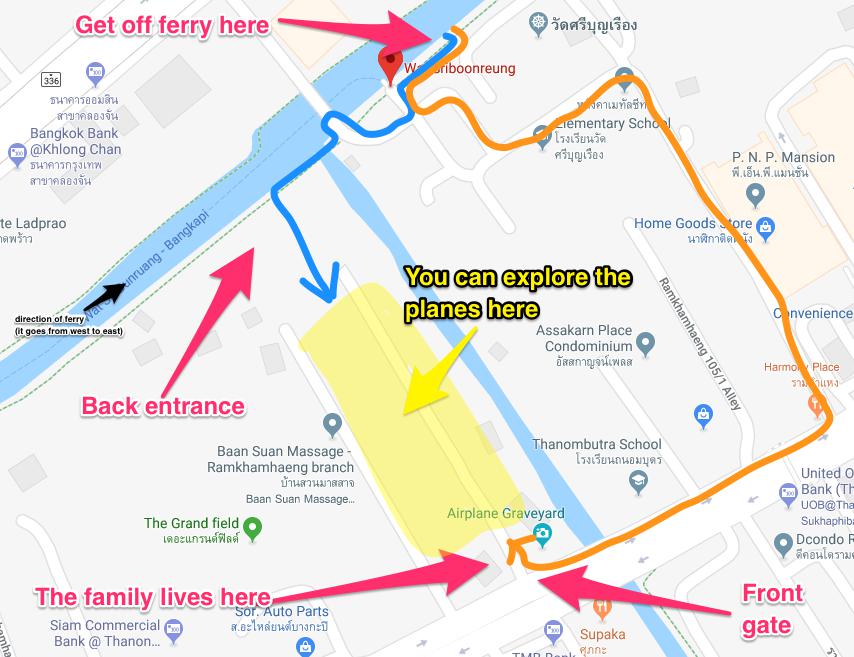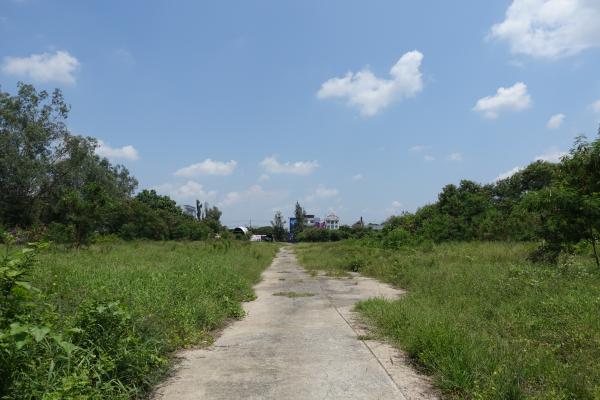 Approaching the graveyard from the rear entrance
The other option is to take the main gate from the front road. We have only spoken to others who did this. They said the family came to find them quickly.
How to pay the family that lives there
When you enter, find the family first. Don't explore the planes without paying!
Apparently the land (and planes) are owned by a rich businessman from Bangkok. He allows the family (or possibly families) to live on the land, and I think it is assumed that they make sure that nothing bad happens there.
Have 200 baht per person in your pockets ready to pay them. But also bring a bit more, we read online that sometimes they might ask for more.
Normally one of the kids will come out. Say hello, be friendly, and ask how much. They tend to speak English. They won't have change. Pay them, and they will say bye and leave you alone. After around 1 hour you may be asked to leave.
There are a couple of dogs around. I am petrified of stray dogs or barking dogs, but these were friendly enough. We didn't stroke them, but they were not aggressive.
The whole interaction with the family was always friendly, and not as scary as some blog posts on the web made out. But maybe we have just always been lucky?
We had read online that sometimes some kids will hassle you for more money, so websites recommended bringing some sweets to give to them. We didn't get hassled for more money, so just ate the sweets that we brough. But it is something to bear in mind.
What to do after paying the family...
To be honest, it is just a big field with abandoned planes there. So you can just go and explore them! We have never seen any other tourists there at the same time (but we did lots of research before visiting and other visitors have definitely been there while it was busy.)
So just go and explore!
How to explore the big plane
There is one big plane (half of a plane) that at first glance seems like you can only enter the lower half of the plane. However if you search around you will find a ladder in the middle of the lower half (I think for crew cabin) and you can explore the upper half! You can't get into the cockpit of this plane though - but other planes you can.)
Pictures!