What To Do In Bangkok - A 3 Day Itinerary
Have you booked a short trip to Bangkok? If you are spending just 72 hours in the Thai capital, this is a guide for you! Find out what things that you should see and do in this 3-day travel plan in Bangkok!
Bangkok, in central Thailand, is home to over 8 million (14 million in the surrounding areas). Over 16 million tourists flock to Bangkok every year. So it shouldn't be surprising that there are lots of things to see and do in Bangkok.
The city is full of amazing sights, including numerous awe-inspiring temples, friendly locals and delicious street food.
We have compiled this 3-day travel itinerary for Bangkok, so you can see all the major sights, get a good feel for the city.
The first day covers most of the river, and the big main tourist attractions - Grand PalaceWat Arun and more.
The second day we will go and see some tourist attractions in Bangkok.
And on the third day of this 3-day travel itinerary in Bangkok we will go to Ayutthaya, which is a bit outside of the city but definitely worth seeing!
Day 1 of our Bangkok Travel Itinerary
Boat down Chao Phraya River
Start off at Chao Phraya River. Get a boat to take you down to Wat Phra Kaew & Grand Palace.
Wat Phra Kaew and Grand Palace
(500 Bhat ($16 USD) for both, open from 8.30am-3.30pm)
They are both on the east bank of the river. Wat Phra Kaew is the name of the whole area, which includes the Grand Palace.
The Grand Palace is the former residence of the Thai monarch.
Wat Phra Kawe was first developed in 1782 and is by far the biggest tourist attraction in Bangkok. There are over 100 buildings in the area (including the Grand Palace).
Make sure you see:
Obviously the Grand Palace (see pic above)
Temple of the Emerald Buddha - in the grounds of the Grand Palace. It is a figurine of the meditating Buddha seated in yogic posture, made of jade or Jasper, clothed in gold. It is around 65cm (26 inches) tall, so not too big but you should check it out!
You will probably spend 2-3 hours here
Wat Pho (The Temple of the Reclining Buddha)
100 Bhat, open from 08:00 – 18:30 - you must dress politely, no shorts, although trousers are permitted
Approx 5-10 min walking distance from the Grand Palace (very close to the river again), Wat Pho is another really popular tourist attraction in Bangkok (not as popular as Wat Phra Kaew/Grand Palace). You can find the huge and famous Reclining Buddha here.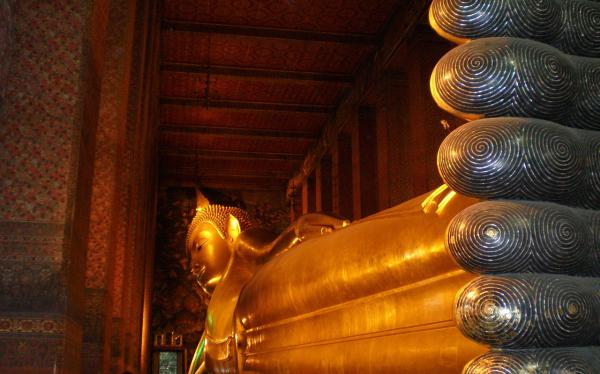 The Reclining Buddha is lying down, and measures 46 meters in length (and 15 meters high).
This area is famous for offering traditional Thai massages here (30 minutes for 260 Baht), however, you should book as soon as you enter Wat Pho because it gets busy.
Traditional or polite dress is required, while shorts above the knees are prohibited for women. It is required to take off your shoes and put them on the shelf before entering religious buildings. Women are also prohibited from all areas set aside for monks to perform their rites.
You will probably spend 2 hours here
Wat Arun - the Temple of Dawn
Opening Hours: 08:00am - 5:30pm Cost: 50 Bhat
Take the ferry from No 8 Tha Tien to Wat Arun (see this map) to the other side of the river to get to Wat Arun. The ferry costs 3 Bhat.
This is another very famous landmark, and you will probably recognise it. It is a huge 70m high temple. I always think it looks a little bit like a smaller ancient version of the Eiffel Tower...
You will need around an hour to explore this temple. If you wake up early and watch it during sunrise, you will see why it is called the Temple of Dawn - there are some incredible views! It also looks great at sunset too, if you are not really a morning person! Wat Arun is considered by many people as the most amazing temple in Thailand
It is possible to climb up to the top, however, the steps are very steep and you will have a bit of difficulty with both going up and back down!
End of day 1
Now it is time for food and a bit of partying. Please see our other guides to food and nightlife in Bangkok for that!
Day 2 of Bangkok Travel Itinerary
So you've woken up in beautiful Bangkok. If you had the chance, it would have been nice to see Wat Arun again but this time at sunrise!
Today we will actually leave Bangkok, to see one of the greatest things you will see in Thailand: Ayutthaya (an ancient city) and Lopburi (monkey city).
Heading to Ayutthaya
If you have more days in Bangkok, it might be wise to do Ayutthaya by itself on one day, then Lopburi on a separate day - but they can both be combined in one day. Both are really great places to go, so I highly recommend it.
Get a minivan/coach from Victory Monument. The first vans leave at dawn. They will drop you off in the middle of Ayuthaya. You will soon notice that this is a tourist hotspot (you can hire a bicycle (50 baht), or a Tuk-Tuk (~200 Bhat an hour), and the area will be full of tourists.
Ayutthaya
Ayutthaya used to be the Siamese capital (from 1350-1767). There are many temples in this historic park to explore. Some of the more famous ones include Wat Phra Si Sanphet (which was a royal temple) and its neighbour the Wihan Phra Mongkhon Bophit (which has a 12 meter tall bronze Buddha image).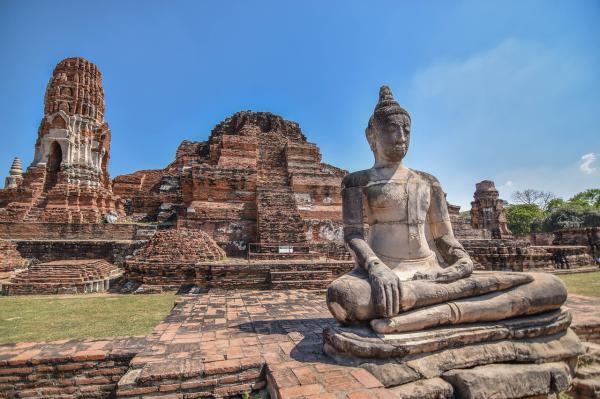 An overview of all the major temples and ruins in Ayutthaya:
Wat Phra Si Samphet - dates back to 1448. This is the largest temple in Ayutthaya. Cost: 50 baht. Opening hours: 8:30am-5pm
Wat Phra Mahatma Temple - if you have seen the photos of the Buddha's head stuck in tree roots, this is where you can find it. Costs 50 baht, open from 8am-5pm.
Phra Nakhon Si Ayutthaya costs up to 100 baht, but it is worth it because it is very well preserved. Open from 8am-6pm.
Wat Phananchoeng - a huge temple with massive Buddha statue. Costs 20 baht to enter. Open 8am-5pm
Wat Chai Watt Anaram - this is a very nice set of temple ruins. Costs 50 baht to enter, and open from 8:30am-5pm.
Wat Yai Chai Mongkhon - Only 20 baht, it is famous for its reclining Buddha which measures around 7 meters.
Getting from Ayutthaya to Lop Buri and the monkeys
Check the train times on Railway.co.th. Get a train from Ayutthaya to Lopburi. It will take just over one hour. There are different trains, durations, and prices so do your research before you get there. For a fast train leaving at 15:19 (arrives 16:21) it costs 60 Bhat for a first class seat.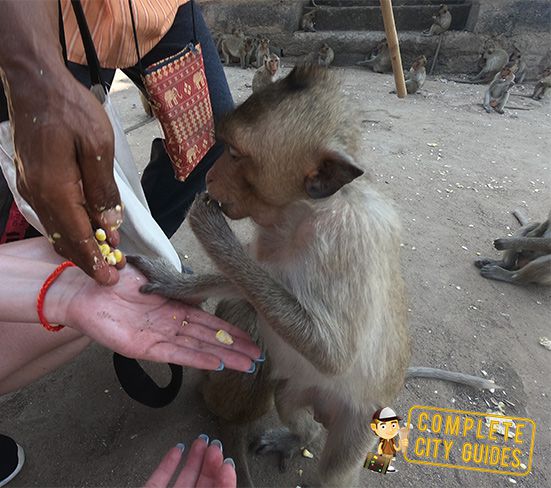 Monkey City of Lopburi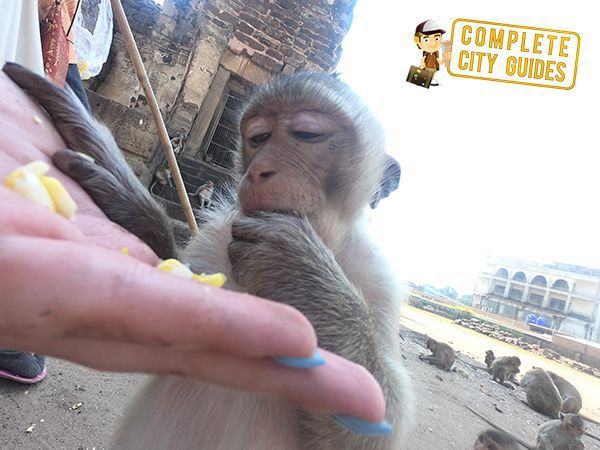 There is a 24-hour luggage storage area in the Lopburi train station. Head to Prang Sam Yot. You will soon see monkeys everywhere. Be careful about having food in front of them - they will steal it from you. Check out some of the ruins in the city, including Wat Phra Si Ratana Mahathat (the largest ruin in the city).
As you start to approach the so-called "Monkey Temple Ruins" you will start to notice monkeys everywhere!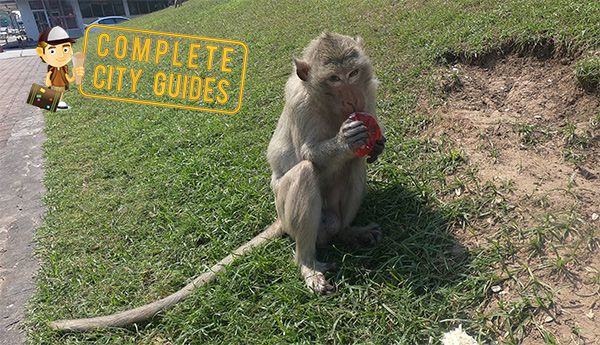 There are sellers offering food and snacks which you can buy for 50 baht and feed the monkeys. If you get dirty (and you probably will) there is a water hose to clean yourself down with.
If you want more details then please go to my guide on Lopburi, the Monkey City.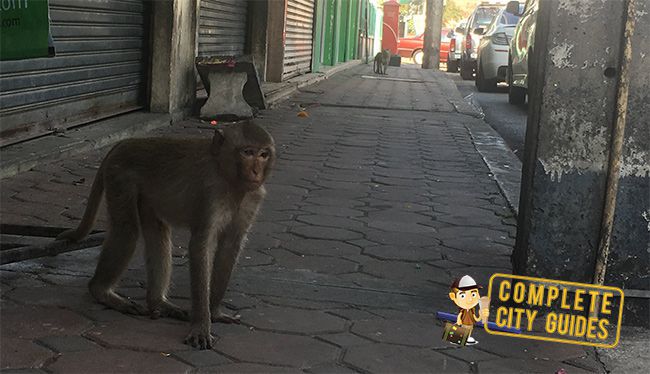 Day 3 - Exploring more of Bangkok
You have probably started to get a good feel for Bangkok at this stage. But after only two days (and one of those spent outside of Bangkok) you still have much to see and experience in Bangkok
Visit the Chatuchak market
15 Km north of the Grand Palace area (from Day 1) is the Chatuchak market. Only make the trip to Chatuchak market if it is at the weekend. When the weekend comes, Chatuchak is home to around 8,000 stalls. More than 200,000 visitors come every weekend to get some bargains and negotiate prices with the sellers.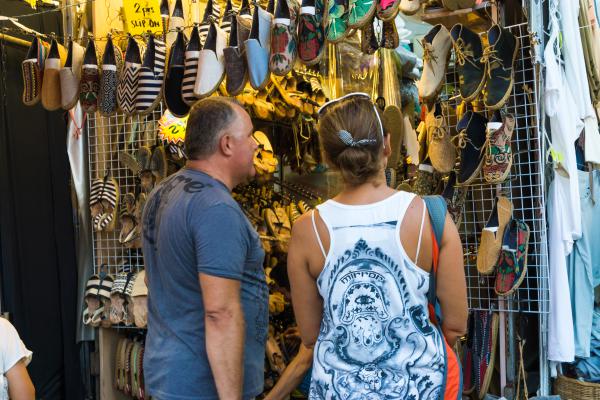 You can find almost everything for sale here, but if you are looking for something specific you should do some research beforehand to know what section of the market to head to.
Siam Square
This is back nearer to the area of Day 1. Siam Square is the central hub of Bangkok.
It is a very modern area, with a large open-air shopping area. The Siam Square One shopping mall is a modern 7-floor mall where you can get cheap clothes, and almost all kinds of electronics you could ever wish for. There are lots of Asian style restaurants here too.
Also very close to Siam Square is Central World - another mall. This is the largest mall in Thailand, and if you are looking for something to buy then this is the ultimate place to go to in Bangkok! It is worth checking out just to see its impressive size. MBK Mall is close too - go there for cheap clothes, electronics, DVDs and mobile phones)
In fact, it is worth going to MBK just for the cheap food hall. You can get some seriously tasty food for seriously low prices.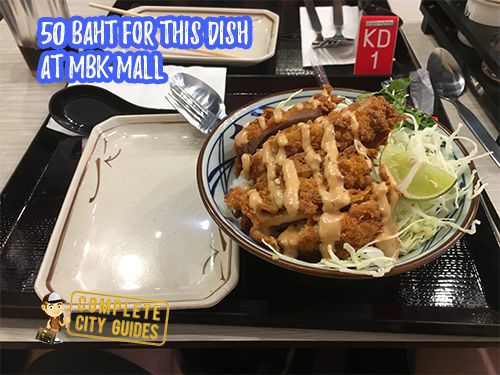 Jim Thompson House
Jim Thompson House is a 10-15 minute walk from Siam Square. Jim Thompson was an American who came to Thailand and revolutionised their silk industry. It costs 150 Baht to enter (open from 9am - 6pm).
Visit Lumpini Park
Lumpini Park is Bangkok's version of Central Park in NYC. Go and see it, chill out and relax!
When walking around you'll find lots of people exercising, doing yoga, running, biking... and then you'll suddenly spot these:
But don't worry - the monitor lizards won't attack you!
If you want to see much more detail about Lumpini Park then see my blog post on exploring Bangkok's Lumpini Park.
Visit Khao San Road
This is the mecca for backpackers. Famous all over the world, and if you've seen the film "The Beach" you should be able to remember what this looks like. It is really busy, full of budget accommodation and backpackers from all over the world.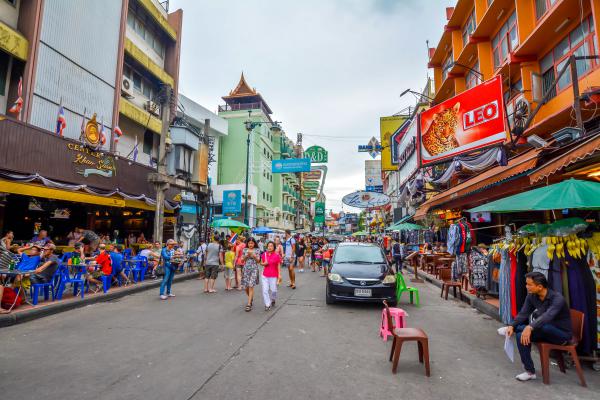 Check out Chinatown
Bangkok has a very cool Chinatown district that is quite unique compared to other Chinatowns elsewhere in the world. Because of its closeness to China itself, it has a more authentic feel.
It is full of all the sounds, smells and views that you would expect.
Go and check out the local market (one is called the Thieves Market - although it doesn't deal with stolen goods anymore), or try some insects from food carts on the street. If you want a great view of the area from above, then go to the Grand China Princess Revolving Restaurant for some great panoramic views of Bangkok.
There are also souvenir shops here.
End the night with a drink at the Sky Bar
Get some great views of the city from one of the many rooftop bars in Bangkok. Here is a good list. But one of our favourites is the Sky Bar.
The Sky Bar is open from 6pm until 1am every day.
Other things to see and do, if you have time!
Get a Tuk-Tuk driver to take you to temples
If you can find a Tuk-Tuk driver that won't scam you (this is harder than it sounds) then paying him to drive you around all day can be a fun and inexpensive way to see a lot of the sights in Bangkok.
Get him to drive you to places such as:
Wat Saket/Golden Mount - A Buddhist temple, popular tourist attraction and symbol of the city
Wat Traimit - Temple of the Golden Buddha - includes the world's largest solid gold Buddha image, It is made of 83% pure gold, weights over 5 tons and would be worth millions of dollars if it was sold.
Wat Benchamabophit - another Buddhist temple (wat), in the Dusit district of Bangkok
Watch a Muay Thai kickboxing match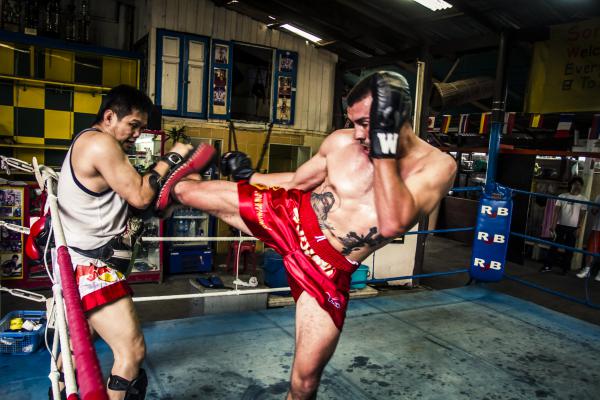 Head over to Rajadamnern Stadium (Tickets) and watch a brutal Muay Thai boxing match.
The Bangkok Corrections Museum
The Bangkok Corrections Museum used to be a prison but is now a tourist attraction. If you have a morbid curiosity about tough methods of punishment, this will keep you entertained.
Hope you enjoyed this guide!
Please explore the rest of this site for more of my guides to Bangkok, Thailand and the rest of the world.