Things to do in Chiang Mai
Chiang Mai is the biggest city in northern Thailand (fifth in size in the whole of Thailand), with over 170,000 in the city itself but over 1 million in the surrounding area. It is surrounded by beautiful mountains, jungle and countryside. With its good travel links (with an international airport there) it is a very popular tourist destination for anyone visiting Thailand who wants to get away from the capital or the islands. Read on to find out what you can do in Chiang Mai!
About Chiang Mai
The city of Chiang Mai dates back to around 1296 AD, and is situated at the foothills of the Himalayan Mountains.
There was a big wall that surrounded the center of Chiang Mai - although only small restored sections still exist today.
It is famous amongst backpackers for its chilled out atmosphere, crazy Songkran Festival (April 13-15th - Thai New Year, where everyone on the street throws water at each other) and home to some ethical Elephant sanctuaries.
Things to do in Chiang Mai
Explore the city
You can find many popular temples, old shops, markets and other things worth seeing by just walking around the old town center.
Elephant Sanctuary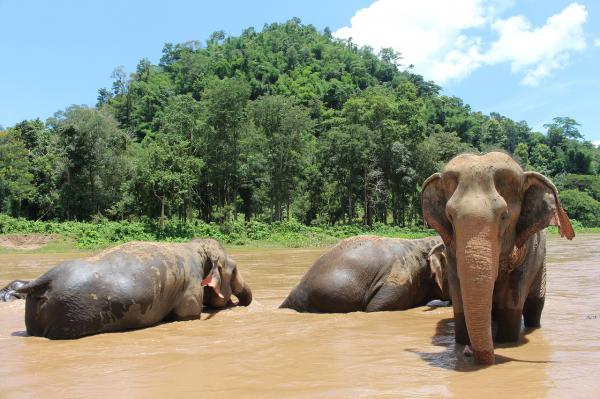 Never go to an elephant sanctury that lets you ride on their back, or who make the elephants do tricks. These animals are abused. Their backs aren't made for supporting the weight of people and causes long term damage and pain to them.
Do a 1 day trip to the Elephant Nature Park sanctury to feed, bathe and see their elephants.
There are lots of elephant sanctuary parks in Chiang Mai, however lots of them are not very genuine. They are often there to make money first, and even if they say they are a sanctury they don't always have the animal's welfare as their main priority. After lots and lots of research the only one I can recommend is definitely the Elephant Nature Park. Book it on their site early as they run out of spaces quickly.
See more details here: ElephantNaturePark.org
Wat Phra That temple (on the Doi Suthep Mountain)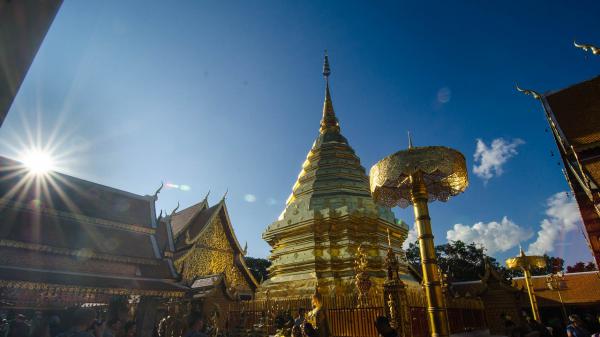 Wat Phra That (see pic above) is a template on the top of Doi Suthep (Mount Suthep). It is approx 15km up the mountain road from Chiang Mai. You can easily get a Tuk-Tuk there (30 min journey).
The temple dates back to 1383 and is still active today as a monastery.
Once you reach the temple you can get some great views of Chiang Mai (as well as beautiful views of the temple iself!).
Sometimes Wat Phra That is referred to as "Doi Suthep", however "Doi Suthep" is actually the whole mountain that the temple is on.
Ob Khan
National park near Chiang Mai. Rocky canyon, great place for nice views and to get away from the city.
You can find many places to relax in this national park, and if you love water or waterfalls this'll be like heaven to you.
It takes approximately 30 minutes to get to from Chiang Mai.
Sunday Evening Street Market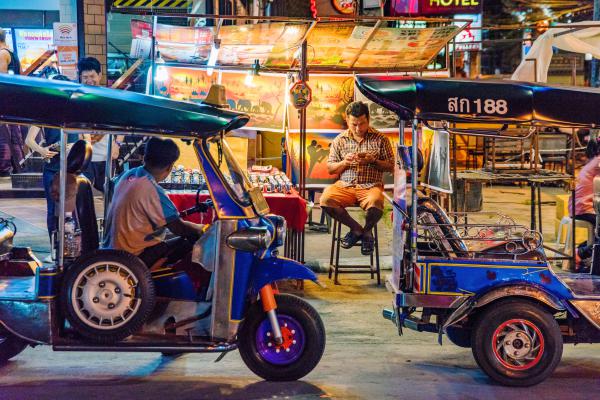 If you are in Chiang Mai at the weekend then make sure you check out their famous sunday evening market! You can buy almost anything you'd need here!
You can just go for a wander, look at all the staslls. You'll be able to get some very tasy food, and even watch some performers there.
It is good enough to make sure that you are in Chiang Mai at the weekend to make sure you don't miss out on this!
Watch a Kantoke Show
A very popular tourist attraction in Chiang Mai is to get a Kantoke dinner. You'll get traditional Northern Thai dishes served to you, in a fun atmosphere, while a 'cultural show' is going on for you to watch. You'll often sit on the floor (which means if you don't like to eat on the floor then you should find a table!)
Doi Inthanon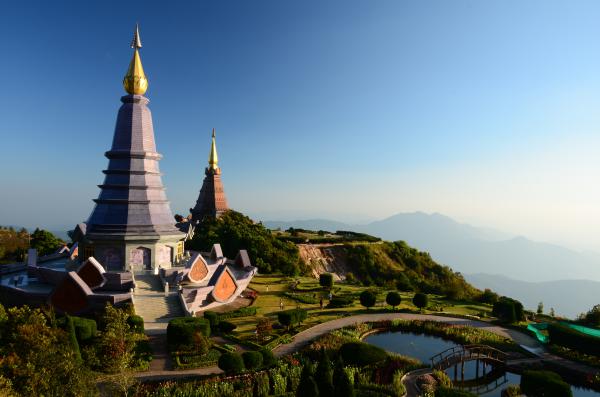 Doi Inthanon is the largest mountain in Thailand, and is often known as 'The Roof of Thailand'.
Despite it being in Thailand (known for its warm weather), the high altitude means that it is cold all year round (and very humid). Two 'chedis' can be found near the top of Doi Inthanon - Naphamethinidon and Naphaphonphumisiri.
Take a tour to Doi Inthanon and check out its incredible views. It is a bit outside of the city, so it'll take a little while to get there but it is completely worth it!
Wiang Kum Kam
Here you can find lots of temple ruins, mixed in with where people currently live.
If you have been to a few other places in Thailand (or Angkor Wat in Cambodia) then you might think you've seen enough of temple ruins, but Wiang Kum Kam is still worth checking out.
You can find lots and lots of old ruins of palaces from an ancient kingdom. Just hop in a taxi from Chiang Mai and take a couple hours of you day to go for a wander in Wiang Kum Kam.
Attend a cooking course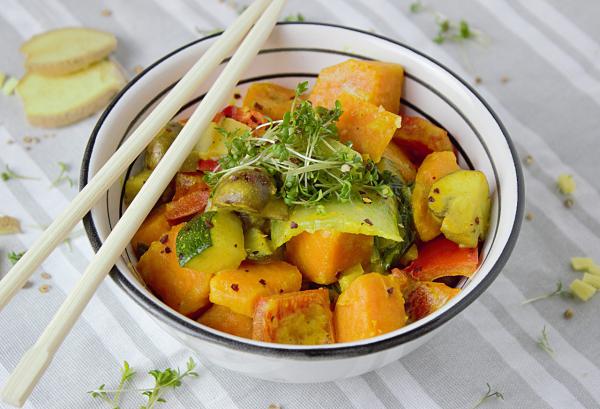 These are very popular in Chiang Mai and you will easily be able to organise this once you arrive in Chiang Mai.
There are also plenty of other courses, for example massage courses.
Wat Umong (Wat Umong Suan Phutthatham) - 'Temple of the tunnels and Buddha Dhamma garden'
A 700 year old Buddhist temple that is often known as 'The Tunnel Temple'.
Wat Umong is quite unique, due to its system of tunnels dating back to the 13th century.
You can find many Lanna style buddha statues in the brick tunnels here. It is an interesting way to spend an hour walking around.
Definitely worth checking out! Remember to dress appropriately though.
Go hiking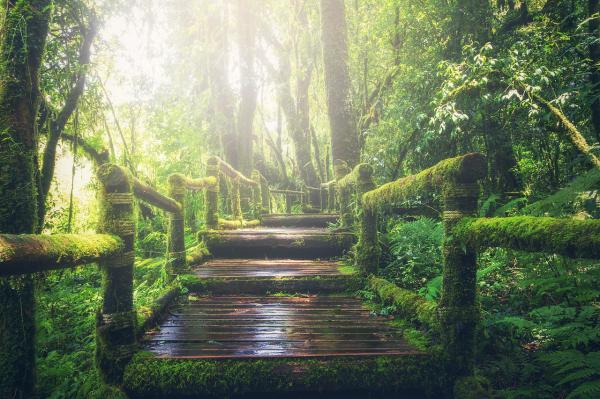 There are lots and lots of hiking trails and routes in the Chiang Mai area. If hiking is your idea of fun then make sure to bring your hiking boots!
Zipline through the jungle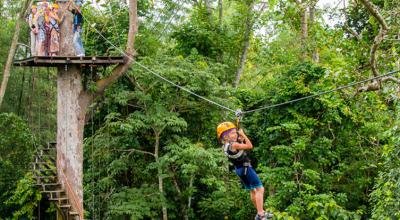 A very popular activity in Chiang Mai is the oppertunity to zipline through the jungle. They typically take around 2 to 3 hours, and you can often see gibons in the jungle along the way.
Find details here.
---
Mountain biking in Chiang Mai
There are lots of companies offering bikes to hire, including this one dedicated to mountain biking.
---
Go to a cat cafe (but avoid the dog cafe!)
There is a very nice cat cafe in Chiang Mai - Catmosphere. Unfortantly the nearby dog cafe seems quite cruel (and the reviews on Trip Advisor agree with our experience there).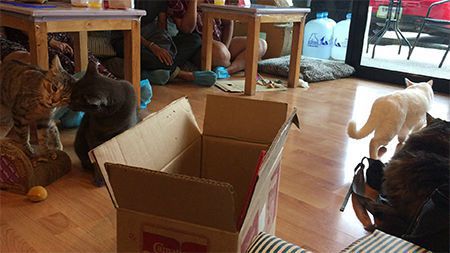 Read my write up of visiting them here
But avoid the tigers
The tigers (which you can pay to see) are drugged, abused (why do you think the workers have long sticks all the time. It is to punish the animals) and not treated well. Please avoid these!