Guide to Thailand Beaches and Cities and Where To Go In Thailand
Bangkok is by far the most famous place in Thailand, with Phuket coming in at a close second. However the country is full of islands, cities and places to visit. Here is a full guide to everywhere in Thailand that you will think of going to, including some information about it, how much things cost, and a little map to show you where each location or island is.
This guide actually covers everything except Bangkok.
Read our dedicated Bangkok section to find out about the capital:
Read about Bangkok here
Table of contents
The Islands - The Gulf - Central south
Koh Tao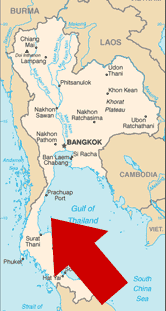 A diver's paradise!. Lots of dive sites. It is the second cheapest place in the world to get your scuba certification.
It takes 4 days to get your certification
You can rent a motorbike to get around the island
Very popular with backpackers
Lots of westerners here (expats, travellers), Cambodian/Burmese (workers) not many Thais on this island.
Food isn't as nice here as mainland Thailand - this applies to most of the islands really though
Visit Koh Nang Yuan

White sands and beautiful views.
It is 3 islands that are connected when the tide is low.
Can get very busy
Really good for snorkling.
Costs 100 baht to enter.
Costs 100-150 baht one way for a boat from Koh Tao (takes 15-20 minutes).

Other activities include hiking in the jungle or checking out the multiple waterfalls on the islands.
Koh Phangan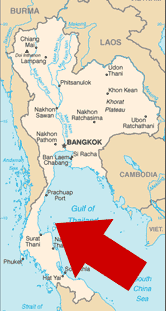 Home of the Full Moon Party - attracts huge crowds
Closest airport: at Surat Thani. One hour bus journey, and then ferry and you will be in Koh Phangan
It is a beautiful island, and well worth visiting even if no full moon party is on
When the full moon party is on it is full of drunken tourists
Lots of partying
Accommodation prices go up when it is full moon (or half full moon). You should have accomodation booked before you arrive if you are going there for the Full Moon Party
Things to do include snorkeling, exploring the island's waterfalls, zip-lining through the trees.
Koh Samui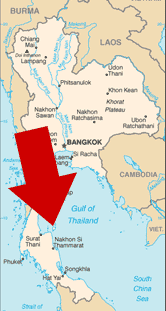 Has an airport - so you can easily get here from Bangkok
You can also fly to Surat Thani, then get bus and then ferry to Samui. Flying to Surat Thani is cheaper.
Very touristy (because of the airport)
Expensive accommodation, expensive taxis
Second most popular island in Thailand (after Phuket)
Although it does have great views, it isn't one of the most beautiful islands in Thailand
Has good links to many nearby islands

Check out TK Tour Samui for a good example of tours that can be done

Has good nightlife
Can be romantic
Chaweng Beach - Samui's main beach. Touristy. Beautiful beach.
Wat Phra Yai / Big Buddha Temple - 12 meter high. Great views
Secret Buddha Garden - Take an organised tour (costs around 80 baht), takes 2 hours and you will get some great views
An Thong National Park - 28km away, can do a day trip there. Great for hiking, to see beautiful lakes.
The Islands - the Andaman sea
Phuket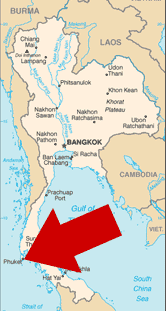 Probably the most famous island in Thailand
Lots of tourists
Has a huge Buddha (see pic)
Has an airport (Thailand's second largest one)
Great nightlife - wild partying!
Has adult entertainment too (Red Light district, sex tourism)
Can do scuba, snorkeling, kayaking.
Easy links to Phi Phi via boat
Food is more expensive here
Patong Beach is the main beach. Very busy, very touristy. But there are other beaches with significantly less people
Great nightlife at Patong area. Very wild.
Phang Nga Bay is where the James Bond film "The Man with the Golden Gun" was set. Known as James Bond island. Day trips can be organsised to Phang Nga Bay. Costs approx 2000-3000 baht.
Prom Thep Cape Viewpoint - amazing sunsets
Lots of big and amazing waterfalls to see
Patong Boxing Stadium - learn how to fight from 500 baht, or watch a match from 1300 baht
Soi Dog Foundation - stray cat and dog charity. Take a tour and play with the animals. You can also volunteer there. Closed at weekends. Details.
Hat Karon Beach - on west side of the island. White sand beach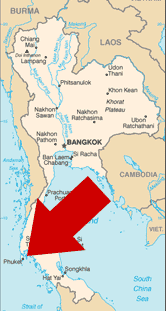 Beautiful looking island - maybe one of the best you will ever see
Very popular island for tourists
Very good wild nightlife
Island was destroyed in 2004 Tsunami, but it has been rebuilt
Tiny island - no cars at all! But this also means it can get very crowded!
Home of Maya Bay, which was made famous in the film The Beach. Beautiful beach, but it will always be really busy. You can do big organised tours that will take you to many islands (and they will always stop at Maya Bay), but if you want to organise it yourself you can rent a longtail from Phi Phi to Maya Bay. It'll cost you around 1500 Baht. The boat will hold up to 4 people, and will take 3 or 4 hours.
Find monkeys on Monkey Beach
Scuba shops on this island
Make sure you see the "View Point". Fantastic views of the city. Takes 20 minutes to get there. Cost: 30 baht.
Lots of rock climbing day tours
Koh Lanta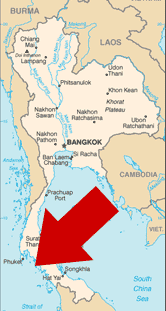 Quieter island without as much nightlife as most others
Lots of beautiful beaches
Closest airport is Krabi. From Krabi it costs 400 baht for a boat here. Costs 700 baht for boat ride from Phuket. Approx 2hrs.
Not very crowded and very peaceful
Tasty seafood can be found here
In march they have the Laanta Lanta Festival
See Waterfalls! You can go on an hour long walk to some nice waterfalls
There are lots of caves to explore
Rent a bike (motorbike or bicycle)
Go fishing - do a half day fishing trip
Railay (Beach, near Krabi)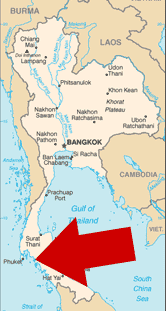 A Beach (not really an Island)
Some of the best rock climbing in Thailand
The Islands - The East
Koh Chang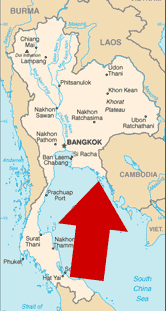 A bit quieter than other places
Not as many tourists here
Huge island - second largest in Thailand. This helps spread out tourists so it never feels too crowded.
Has elephants (but they are rare to see
Go kayaking
Good links to some nearby islands, including Ko Mak. You can take speed boat tours to nearby islands (cost: 500-900 baht)
Can go hiking or trekking in the mountains . You will see lots of waterwalls on this island.
Can do half or full day snorkeling trips, cost start at around 500 baht for half day.
Lots of scuba diving locations and tours
Very tasty food here
Nightlife is a lot more chilled out and calmer here. It isn't the wild party place of Phuket
Koh Samet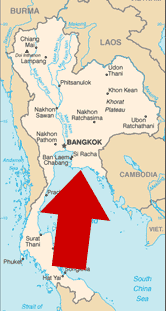 Closest big city to Bangkok (4-5hrs away)
Long and narrow
Cheaper than some other islands
A chilled out place
Nice hiking trails
Has one famous temple: Wat Ko Kaew Pitsadan, which has a big buddha statue in it
Can also go scuba diving, snorkling etc
Watch fire dancing shows at night on the beach
Inland (no islands!) - Up North
Chiang Mai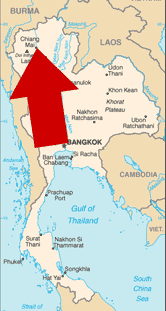 Very popular destination for backpackers
Has an airport with good links to other airports in Thailand
Takes 12 hours from Bangkok on the train
Second largest city in Thailand after Bangkok
Lots of temples to visit

Wat Doi Suthep is a famous one - has great views of the area. Apparently contains real remains of the Lord Buddha.
You can also find many other temples in the old town area

Great nightlife however everywhere shuts at midnight.
Buy things at the Night Bazaar. Go shopping and find some bargains. The Night Bazaar is famous, big (around 1km long) and is open every day until around midnight. details. There is also the Warorot Market.
Famous for its Elephant Sanctuary. This is one of the most popular and most loved tourist attraction in Thailand. They look after and really care for their elephants. Details
Find chatty monks! They love to chat details here
Famous for its cooking classes. You can easily find these when here, and people always love their times there. Cost: 800-1000
Go in the jungle! Many tours take you into the jungle. Avoid any where you ride on elephants, as this is very cruel (it isn't like just going on a horses back. This causes damage to elephants. They might be big, but they aren't designed to support the weight of people
Lots of delicious food can be found here
Yi Peng Festival in November
Pai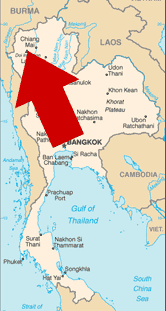 Close to Chian Mai
Can be full of westerners here
A more hippy feel
Beautiful mountains to explore
Fantastic views, great sunsets
Explore caves
Lots of activities on the Pai river
Isaan (region)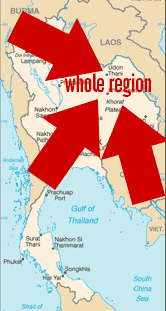 Isaan is the whole region in the North East.
Not many tourists here
Feels very rural, and very different than the main cities or islands in Thailand
Consists of many cities in this area. If you are thinking of going to this region, then do research about what cities you want to visit.
Has the Elephant Nature Foundation. http://www.surinproject.org/
Inland - West
Kanchanaburi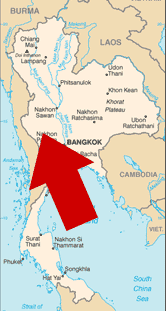 Near Myanmar border
~4 hour bus journey from Bangkok
Home to the River Kwai
Home to Erawan Falls - beautiful park (45 min away) with 7 tiered waterfall
Has a tiger temple, but these should always be avoided as they drug the tigers and abuse them so they can be around people
Inland - Near Bangkok
There are some places close to Bangkok that are worth visiting. If you want to find out about Bangkok itself, please go to our section on Bangkok.
Read about Bangkok here
Ayutthaya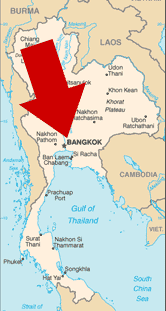 Thailand's old capital. Dates back to 1350. City was destroyed by Burmese in 1767. Now it is a city of ruins and temples. But obviously there are modern buildings too.
Full of amazing ruins to explore
People normally do a day tour here, from Bangkok. Most don't sleep here
Not much nightlife - people just don't stay here so not many are left at night. Soi Naresuan is where you will find any nightlife.
There are lots of temples to see and explore here.
See our full guide to Ayutthaya here
Lopburi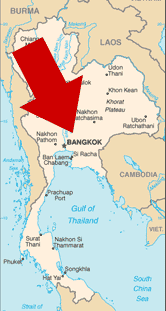 Famous for its monkeys. It is known as the Monkey City
Lots of ruins to explore
Used to be the ancient capital
Many people stop here for a day (or night) on their way between Bangkok and Chiang Mai
As well as exploring the ruins and seeing the monkeys, you can see the central market (every day, 6am-5pm), check out the cool Wang Kan Lueang Waterfall.
See our full guide to Lopburi here
I love Bangkok - get my tips and best things to do in Bangkok, straight in your email inbox!
Hi! I'm Patrick! I love travelling, and has been travelling most of the year for over 10 years now. Now I share my trips, tricks and advice here on CompleteCityGuides.com.

Follow me on Twitter, Facebook or Instagram for more updates...