Lumpini Park and The Monitor Lizards
Lumpini Park is often called "Bangkok's Central Park" - just, you know, with big scary looking Monitor Lizards! Read on to find out about what you can get up to in Lumpini Park, and how to get to Lumpini Park. And of course, important information to know about those scary looking reptiles!
It is one of my favourite places to go in Bangkok when I need to unwind. The park is huge and you can get away from the hectic streets (mostly, anyway!) and get some form of peace and quiet.
If you are ever in Bangkok and feel that you need to get away from the busy streets and relax, then I recommend you head over to Lumpini Park.
For me, the highlight is always seeing the monitor lizards (more on those later!). They look dangerous, but as far as I am aware they never attack humans. As someone who lives in Europe, seeing animals like this in the wild (if you can call the park 'the wild') is quite fascinating.
It is large - covering an area of 142 acres (58-hectare), and you can probably spend an hour or more walking around and not get bored. I think on my first visit there, I spent almost two hours walking around and seeing the sights.
Lumpini Park Facts You Should Know: Don't smoke in Lumpini park! It is forbidden. Did you know it is named after where Buddha was born in Nepal? It was created in the 1920s.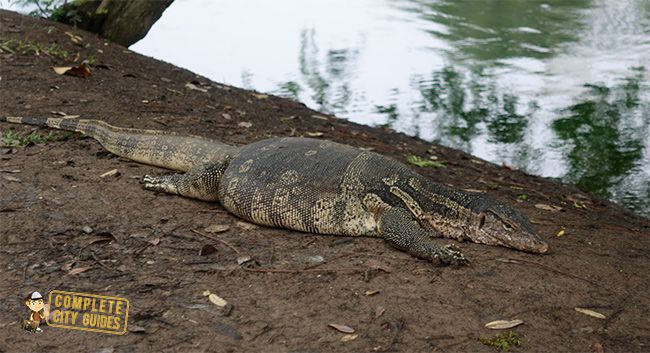 Table of contents
Where is Lumpini Park?
Lumpini Park close to central Bangkok. When you are near it you will easily be able to spot it (especially if you are approaching from the side with the memorial statue of King Rama VI (see photo below).
It accessible by the Sala Daeng BTS station (leave the station via Exit No.6, and cross the street towards the King Rama VI statue), Lumpini MRT station (which is on the south-east corner of the park) and Silom MRT station (south side of the park).
Even with language issues, every single taxi or Tuk-tuk driver will know Lumpini Park.
Lumpini Park Opening Times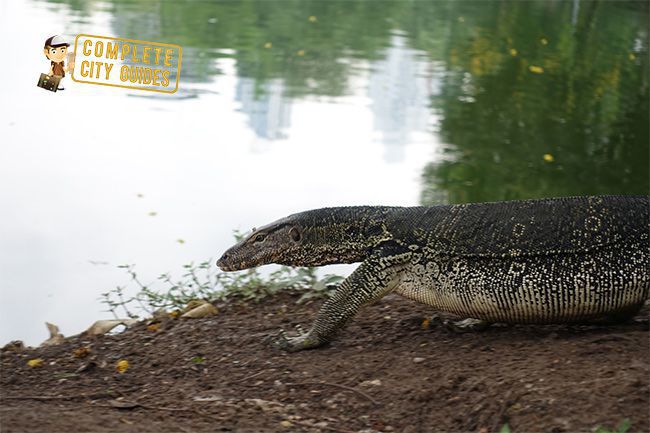 Opens every day at 4:30am
Closes every day at 9pm
On weekdays the park will be busiest from around 4pm-7pm. On Saturdays, it is busy from around 8am onwards until it shuts. Sunday mornings are really busy, but it dies down as the day goes on. While there are many tourists that visit, I would say it is primarily used by the locals.
What can you see and do at Lumpini Park?
Walk around
Walk around! You can spend a long time having a nice walk around the park. I think that if you do a whole loop of the park you will probably walk around 2.5 to 3km (1.5 miles - 1.8 miles). But you will probably get distracted along the way and take some detours. It isn't a place where you need to particularly worry about what route you take, you can't really get lost in Lumpini Park.
Go for a run in Lumpini park
Or if you are feeling more active go for a run around the park. The park is always full of many runners and joggers. The park is almost completely flat, and it is a great place to get some exercise.
Rent paddle boats in the artificial lake in the park
You can also rent a swan paddle boat for just 40 baht.
See the sculptures
Check out the sculptures and views in the park
See the fish
Look closely into the lake and you can guarantee that you'll spot some fish. Some of them are impressively huge too!
Take note of the grass
This one isn't too exciting or anything, but the grass is just weird here.
(Compared to grass back at home, anyway)
See the mascot guys
If someone knows what these are about, please leave a comment!
See people exercise - or even join in a class yourself!
Watch people (or join in) doing Tai Chi, yoga and other exercises
You could also join in (but check first, don't just turn up). There always seems to be a few westerners joining in some group activity in the park.
Eat!
Get some food: There are multiple little stalls/mini cafes dotted around Lumpini Park where you can get some snacks. They are popular with locals.
Cats
See some cats! There always seems to be a few cats along the way that are quite friendly and you can play with.
They seem to like the attention of humans and are quite chilled out even if they're sat in the middle of where bikers want to go.
Or see some birds in the park
Birds love Lumpini Park. There are many different breeds (sorry for the lack of info here - I'm no bird expert), it can be nice to sit and watch them.
But if cats and birds aren't interesting for you, then what about the tortoises?
There are also the famous monitor lizards (more on those later) but you can also spot quite a few tortoises hanging out in the park near the water.
Workout in the free outdoor gym in the park
Use the free outdoor gym. I've seen it referred to online as Bangkok's Ghetto Gym. It has been a part of the park since 1979 and is one of the most basic gyms you'll ever see (it looks like what you see in prison movies). Everything stays out, 24/7, in all weather conditions. But as it is all made of metal everything lasts ok. It is completely free to use this gym, but if you want to work out in a proper gym then there is actually an indoor gym within the park (which is almost as cheap as free: as low as 50 Baht for foreigners).
And don't forget about the scary looking monitor lizards
And of course, check out the famous monitor lizards and other wildlife in Lumpini Park.
Lumpini Park Monitor Lizards?!?
As I said above, the highlight for me is the fact that the park has Monitor Lizards.
These are up to 3m (10ft) in length and when you first see them they honestly look quite scary and like they could do some damage. They look like prehistoric crocodiles (maybe a little bit smaller?). But it turns out they're actually no threat to humans.
There are around 400 water monitor lizards in the park (although they tend to stick in a small area). You will definitely be able to find some in the park!
In September 2016 100 were removed to keep the population numbers down. They can cause quite a bit of damage to the park, so they aren't encouraged to grow to big numbers. You won't find them very far away from the lake in the park, and never outside of the park.
They survive by mostly eating dead fish, birds and turtles. (Not humans!)
The Thai word for monitor lizards is 'hia', which is also a rude word (see
here for details
)
Are the Lumpini Park Monitor Lizards safe?
Yes, they are safe!
They might look like small crocodiles, but as mentioned above they eat dead fish, birds and turtles!
I've been close to them (not stupidly close, but maybe a meter or two away) and they don't seem to care. I would definitely not want to touch or provoke them though.
They don't attack humans and are safe to be around. But you should still keep a safe distance from them!
Where are the reptiles in Lumpini Park?
If you stick to the lakes it won't be long until you see them! But see the map below (the red area indicates where you can definitely find some!)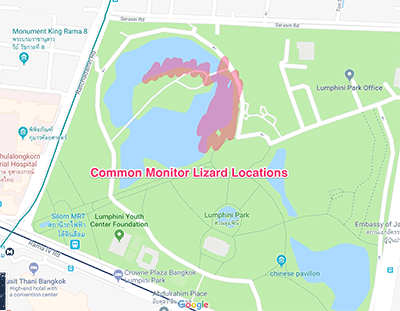 Once you find one, you will probably see a few more in the vicinity. They don't move, and they do half blend into the background. There have been a few times where I was by the side of the lake looking one way, then I suddenly realised I was less than a meter away from one. But they just sit there, motionless, and I've never seen them try to attack anyone. People walk their dogs in the park quite safely too.
In the photo above there are actually two of them. It might not be a fantastic pic, but maybe this will show how it is easy to miss them if you are distracted by something else.