How To Get From Phuket to Phi Phi (Thailand)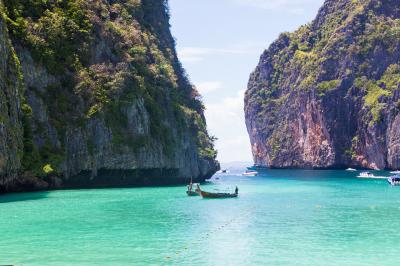 The island of Phuket is Thailand's second most popular tourist destination (after Bangkok), and nearby is another island known as Phi Phi. There are lots of confusing webpages giving false or outdated information about how to get to Phi Phi. This page clears up every option and tells you how to get to Phi Phi from Phuket.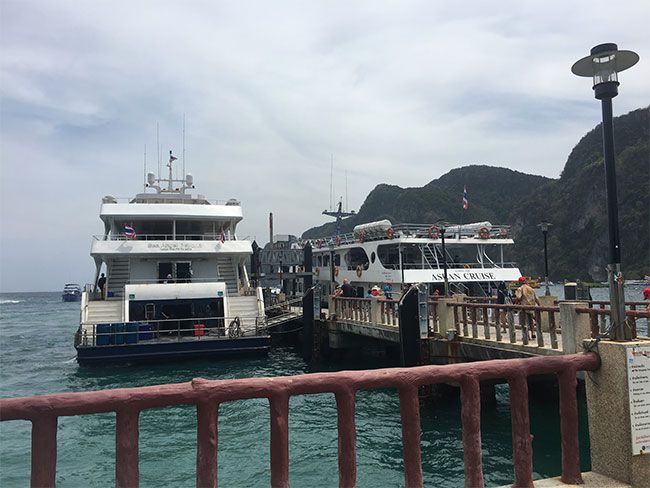 Phi Phi is around 40-50 km from both Phuket and Krabi. From Phuket there are two main options: speedboats (faster, more expensive) and ferrys (slower, cheaper).
How to get from Phuket to Phi Phi by Ferry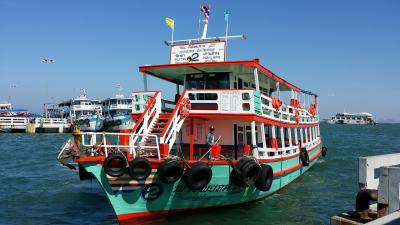 From Phuket the ferry takes around 2 hours from Phuket to Phi Phi. The most popular port for ferries leaving for Phi Phi is Rassada Pier, in Phuket Town. Rassada Pier is around 45min - 1 hour from Phuket airport. A taxi should cost around 500 baht.
You should aim to book the ferry (online) at least one day before travelling to guarantee a ticket.
Phuket to Phi Phi Ferry Costs
As of March 2018 it costs 600 Thai baht for adults, and 500 baht for children for the ferry (one way) from Rassada Pier in Phuket Town.
There are also ferry routes from Sea Angel Pier (approx 30 min walk to Rassada Pier)
Phuket (Rassada Pier) to Phi Phi Ferry timetable (march 2018)
As of March 2018 here are the ferry times for Phuket <-> Phi Phi:
Please check the internet for more up to date timetables.
| Departure (Phuket - Rassada Pier) | Arrival (Phi Phi) |
| --- | --- |
| 0830 | 1030 |
| 1100 | 1230 |
| 1330 | 1530 |
| 1500 | 1630 |
Phi Phi to Phuket ferry timetable (March 2018)
| Departure (Phi Phi) | Arrival (Phuket - Rassada Pier) |
| --- | --- |
| 0900 | 1100 |
| 1400 | 1540 |
| 1430 | 1630 |
Phuket to Phi Phi via speedboat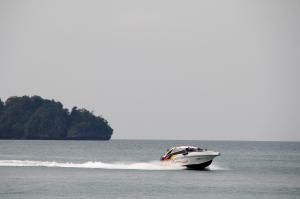 The speed boat is much faster, taking only 1 hour.
Often they are quite calm, however some parts of the year (September until November) the ride can be very bumpy.
You should book these in advance, as they can often sell out due to much more limited seats than what ferries have.
Costs of speed boat between Phi Phi and Phuket
Costs vary a lot, and they depend on how many people rent the speedboat for.
Some links to check out:
Where to find the pier in Phi Phi
You can find the boats/ferries around the Tonsai area. Please see the map here for details.
Where to find Rassada Pier in Phuket
Rassada Pier is easy to find! It is the main pier in Phuket for ferry trips. It is around 10 minutes driving distance from Phuket town, and you will easily be able to get to Phuket Town from anywhere on the island.
Once at the pier you can check in with your eticket (printed). You should aim to get to the pier 30 minutes before your scheduled departure time.
Day tours once you are at Phi Phi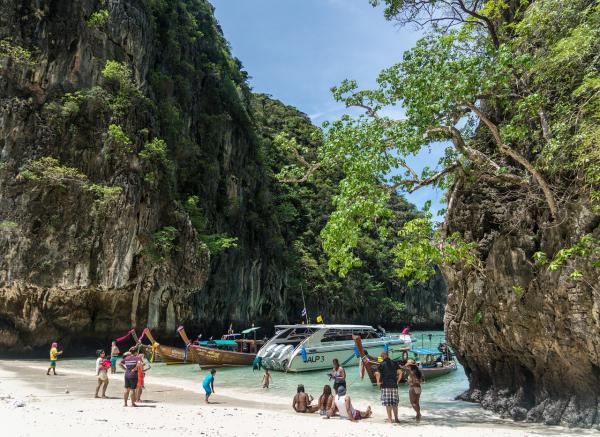 If you are staying overnight at Phi Phi, you might want to do an organised boat tour that starts and ends in the Phi Phi islands.
You can find private boat capitans in the main Phi Phi island (Phi Phi Don - Tonsai).
It is recommended that you book a boat tour in advance, as (especially during peak season) these private boats get hired out quickly.
You can also start the private boat tours from around 6am, so you will avoid the busier crowds for a few hours.
Cost of hiring a long boat private boat in Phi Phi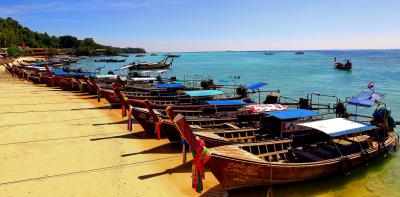 The prices vary depending on the size of the boat. If you are a bigger group then the cost (per person) will get smaller.
A typical price for a boat that can take 4 passengers is around 2,500 baht for a half day private boat trip. This will most often include hiring snorkeling gear.
Cost of hiring a speed boat in Phi Phi
Want to see things quicker? Then hiring a speed boat in Phi Phi is your answer. It is much more expenive though - starting at around 7000 baht.