What to do in Phi Phi (Thailand) and How Long To Stay in Koh Phi Phi
Ko Phi Phi is a small archipelago of six islands in Krabi Province, Southern Thailand. It is probably one of the most beautiful places on earth, and attracts many tourists every day. This is a guide on everything you need to know about the Phi Phi islands!
The Ko Phi Phi Islands
When people talk about "Phi Phi" or the "Phi Phi islands" they are referring the group of islands, or quite often just referring to the main island Ko Phi Phi Don.
There is much more to see than just Ko Phi Phi Don though:
Ko Phi Phi Don the main island, the only populated island.
Ko Phi Phi Leh smaller island to the south of Ko Phi Phi Don. Popular because of the film "The Beach" (Maya Bay). Costs 500 baht to step foot on this island UPDATE: They have closed access. See BBC news here
Ko Mai Phai ('Bamboo Island') - a small island to the north of Ko Phi Phi Don. Some small snorkeling areas.
Ko Yung ('Mosquito Island') - another island north of Ko Phi Phi Don. Stone beach in the east, some small sandy beaches.
The Bida Islands: Bida Nok and Bida Nai - southernmost Phi Phi islands. Very close to each other. Popular with divers.
The whole area was destroyed by the Indian Ocean tsunami of December 2004. However nowadays it has been rebuilt and is extremely popular with tourists coming to Thailand.
Getting to Koh Phi Phi
There are good links (via boat) to Phi Phi from Phuket, Ao Nang, Rai Leh, Krabi Town, Ko Lanta etc.
Check out our guide on getting to Phi Phi from Phuket.
There are generally two options: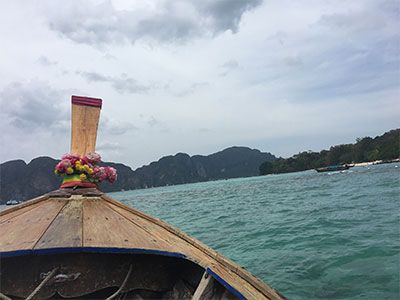 Day trip (Via boat) - all day inclusive trips for example they pick you up in Phuket, you see Phi Phi (and maybe other islands), and they return you to Phuket
or you stay overnight in Phi Phi (get the boat one day, then stay a night or two in Phi Phi, then get the boat back to Phuket/Krabi/etc.
When you set foot on Phi Phi Don you have to pay 20 baht.
What to do in Phi Phi
Things to do in Koh Phi Phi Don (The main island)
Phi Phi Don is the main island, and the largest. The whole island is beautiful and stunning, and no trip to Phi Phi is complete without checking it out!
Tonsai (Ton Sai) - this is the heart of Phi Phi Don. Pier, home to businesses etc.
Check out the viewpoint - there are several viewpoints along the same route: 30 baht for the first two, and 50 baht for the third viewpoint). You get a fantastic view of the islands and surrounding area. There are a lot of steep steps to take, but it is worth it. Also worth doing at dawn or sunset - but remember to bring a torch! If you can't make it for dawn or sunset, then aim for getting there before 10am for better photo opportunities. You can get drinks at a small shop at the 2nd viewpoint.
Another place to get a nice view of the area is the Banana Bar which has a rooftop view
Monkey Beach - unsuprisingly enough has monkeys on it. They can be a bit aggressive if you are unlucky. But lots of tourists go there so they are very used to human contact. But still, be cautious around them!
Check out a fire show that many of the bars and venues on the island have most evenings.
Tsunami Memorial Garden - in memory of the 2004 tsunami.
Yao Beach - south of Tonsai beach. Popular for snorkelling and scuba diving. You can walk there from Ton Sai or get a longtail boat.
Next to Yao Beach is Lanti Beach, another nice area to check out.
Laem Tong - quieter area, but still beautiful
Hin Khao Beach - quiet beach
Things to do in Ko Phi Phi Leh
Although it is uninhabited, Phi Phi Leh is defintely worth going to see. It is a national park, and full of beautiful views. If you've ever seen "The Beach" film then you'll recognise one of its bays (Maya Bay) as being the main location in that film.
Maya Bay - due to the popularity of the film "The Beach", this has become a tourist hotspot. It used to be more beautiful (with coral and more fish). If you visit Maya Bay then be sure you get here before 8am to avoid the crowds. Costs 100 baht to enter per person. In summer 2018 they closed access to the beach - it is scheduled to open again Nov 1st 2018.
Check out the Phaya Naak Cave with its prehistoric paintings
And on the west coast of the island is the Lohsamah Bay.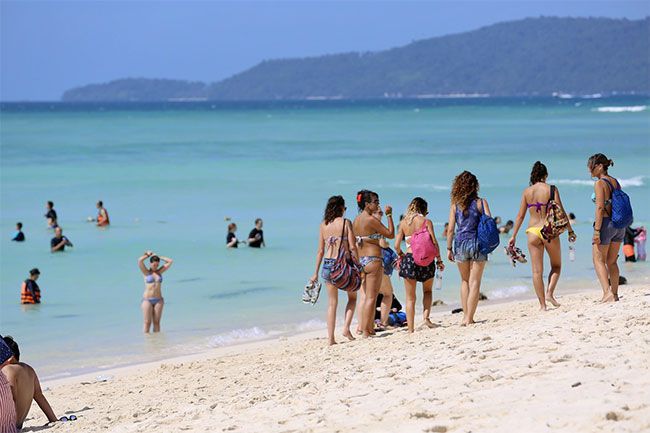 Other things to do on the other Phi Phi islands
On Yung Island (Mosquito Island) there are always strong tides, and it is recommended that only very experienced swimmers even consider going for a swim around here. It isn't really too popular as there isn't much here.
Pai Island (Bamboo Island) has some swimming and snorkeling areas, however you might not see much.
Where to stay in Phi Phi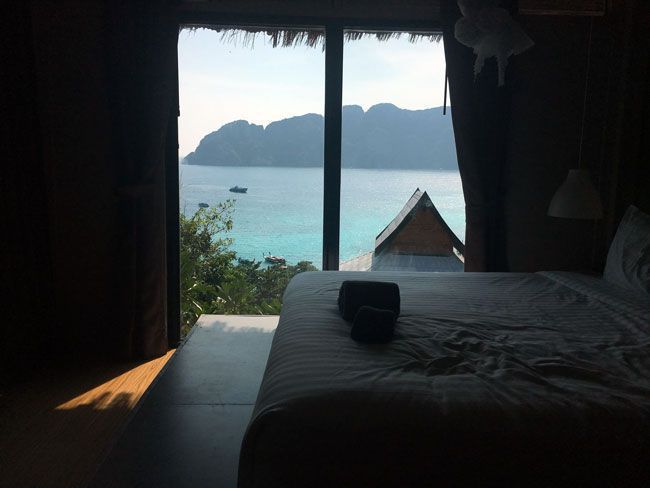 Most people stay near on in Ton Sai on Phi Phi Don
There are several resorts dotted around Phi Phi. Phi Phi Don is so small that everywhere is easily accessible either by long tail boat or by walking.
We stayed in Long Beach (see pic above). To get from long beach to the 'center' of Phi Phi on the long tail boats was approx 250 or 300 baht. I would recommend staying in Long Beach area just because it was so peaceful and quiet (see pic below), and so beautiful.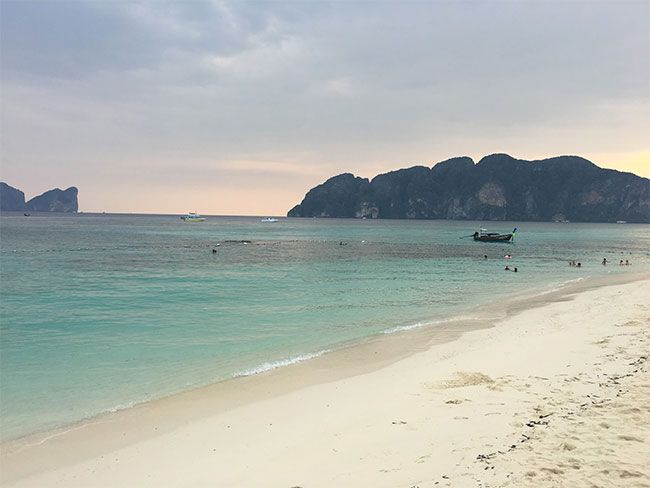 Things to be warned about in Phi Phi
Don't take photos with animals
After a short white in Phi Phi you are bound to see someone with some animals, who offer the chance of a photo and/or holding them (of course, you pay for this). Don't do this - they really exploit the animals and animal welfare isn't their top priority.
They get these animals (especially the baby ones) by poaching them, often killing the mother of the animal. They are often endanged animal, and should not be used like this. Also they are often drugged, so they appear more relaxed around human contact.