Introduction
Thailand is an amazing place to go and travel to. 32.59 million foreigners visited there in 2016 (and now in 2018 it is even higher!). Thailand is also home to around 2.5 million expats who have moved there - which equals around 3.9 percent of Thailand's whole population. There are many reasons why all these people chose Thailand. It is an amazing country - I hope that after reading this travel guide to Thailand you'll go and book a flight and accommodation there and experience it with your own eyes.
Thailand is a huge country, and there are many thousands of tourist attractions that I'm not going to cover. I will focus on all the famous attractions, the things that are popular, and the smaller places that I've found and loved (but aren't necessarily popular with everyone).
I truly love Thailand and have visited it several times and spent (in total) many, many months there. The visa situation is quite good, and you'll find many foreigners who move there to work remotely on their laptops (Coworking spaces are opening all the time).
Ok, so lets being with this guide to everything you need to know about planning a trip and visiting Thailand!
Where to visit in Thailand
The biggest problem when it comes to planning a trip to Thailand is deciding where to go. There are many tourist hotspots (and hidden gems). A lot of people spend at least a couple of weeks there and see at least a couple of cities/beaches while there. You can get cheap flights between most of the bigger tourist destinations, for cheap prices (it really isn't worth getting the train or bus). But more details on getting around Thailand later on in this ultimate travel guide (scroll down to find it).
Let's see what the biggest tourist attractions are first:
The top tourist landmarks and attractions in Thailand
I'll go over the biggest landmarks and most important places in Thailand - more actual detail about planning a trip to Thailand can be found further down the page. Hopefully, these photos will get you excited about a trip to Thailand!.
This section is to make you really want to explore Thailand and see these great sights!
Koh Phi Phi - Phi Phi Islands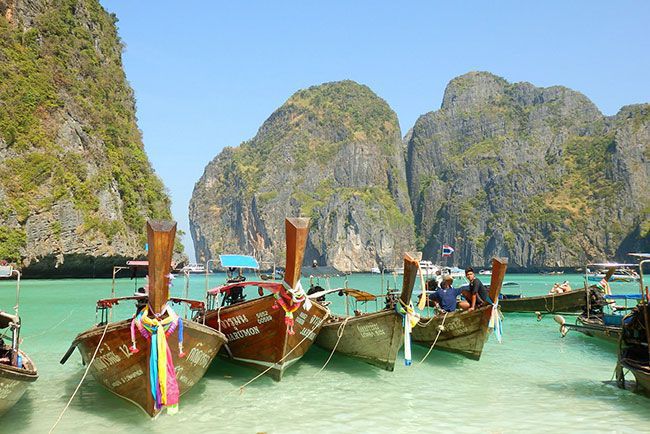 The Phi Phi islands are one of the most famous islands in Thailand, and one of the most beautiful places you'll ever see.
It is also where The Beach film was set (Maya Bay) - although in 2018 they restricted access to that beach.
More details about Phi Phi can be found below.
The Grand Palace in Bangkok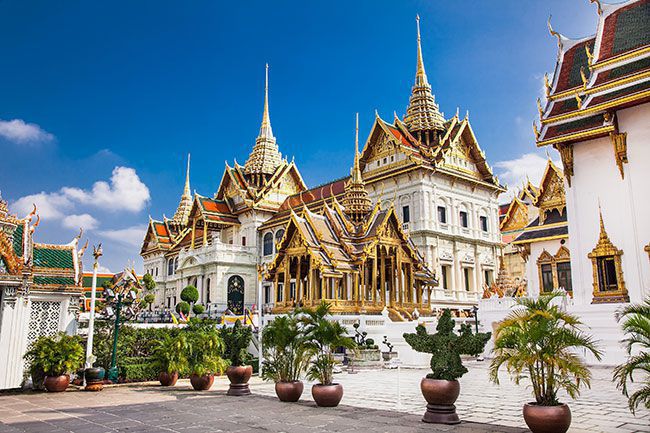 Probably Thailand's biggest tourist attraction. It will be extremely busy but totally worth checking out the Grand Palace. It covers a huge area (218,400 square metres/2,351,000 sq ft) and has many temples. The most important and famous is Wat Phra Kaeo - Temple of the Emerald Buddha. Lots of people flock to go and see the relic inside - a piece of bone from Buddha himself.
Wat Arun (Bangkok)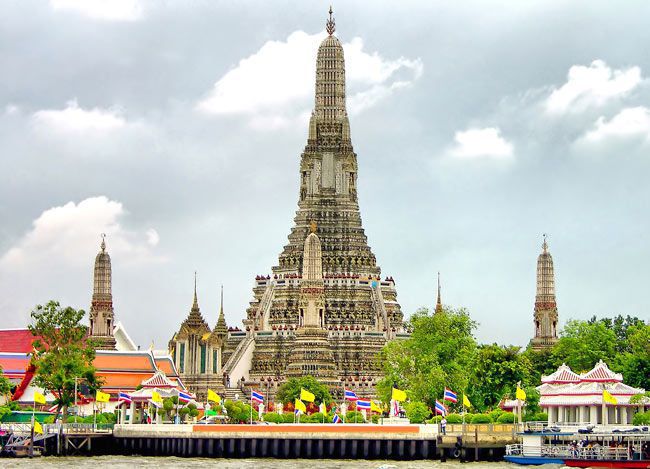 Another one of the super famous temples ("wats") in Bangkok. It translates to "Temple of Dawn" (that's dawn, not doom!), because of the fantastic views you get as it shimmers at sunrise. It is an impressive structure - 85 meters (280 feet) high - and you have got to go and see it when in Bangkok.
Bangkok's Shopping Malls Especially Terminal 21, MBK and Central Embassy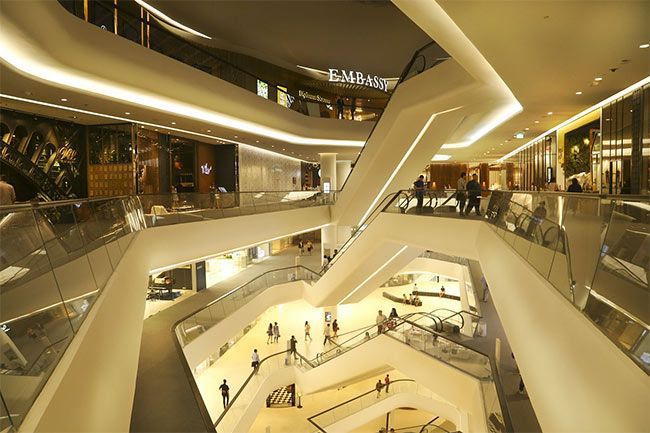 Ok so normally a shopping mall wouldn't really be a tourist attraction but Bangkok has so many massive malls that you really should spend a day exploring them! My favourite malls in Bangkok are definitely:
Terminal 21 - a nice mall where each level is themed like a different city (London, San Francisco etc).
Then you have MBK which is full of cheap goods, fake clothes and electronics, and the tastiest food hall (really cheap too - approx 50 baht / $1 per meal) ever. I've lost count of the number of times I went to MBK just to get some tasty Thai food.
Another favourite of mine in Bangkok is the Central Embassy: another large one that is full of high-end brands. I've never been to a more luxurious looking shopping mall.
Bangkok's Floating Markets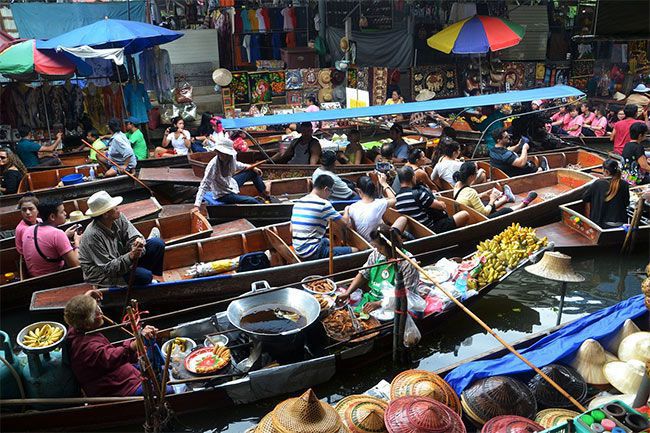 Bangkok has many famous floating markets - some are very touristy and some really are what the locals use.
It is an amazing and quite unique experience to go to a floating market - if you get the chance I really recommend you go.
There are several in Bangkok, so you really should do some research beforehand. But I've always liked the Damnoen Saduak Floating Market.
The Tuk-Tuks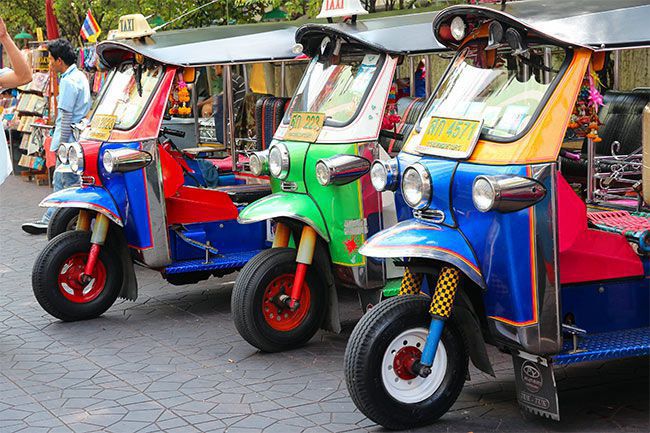 These aren't really a tourist attraction, but Thailand's Tuk-Tuks are everywhere and fun to ride on. However, they don't feel safe at all and I'm sure if you had any kind of crash it would be a horrific accident.
They seem to go as fast as they can, which can be either really fun (like a rollercoaster) or really scary (like when you have a crazy driver). You'll really feel their speed on your first Tuk Tuk ride! But you get used to how fast they go after a few rides).
The Tuk Tuk drivers will always try and scam you though - read the section near the bottom explaining common Thailand scams.
But despite the safety issues and the fact that the drivers will overcharge you I recommend everyone goes on some Tuk Tuk rides while in Thailand.
The ancient city of Ayutthaya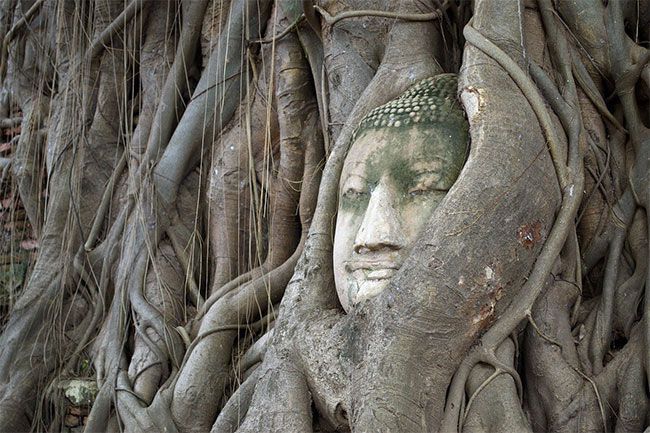 Ayutthaya (the real full name for where you'd go is "Ayutthaya Historical Park") are the ruins of an old city which have been overrun by the jungle. You can find it a couple of hours north of Bangkok.
It dates back to 1351 but was mostly destroyed and left in ruins in 1767. From that time it was mostly left untouched until it was rediscovered in the 1950s. Now it is a very famous tourist attraction - especially for its head of Buddha within some tree roots. The Buddha's head is a very popular photo spot, so expect there to be a queue of people waiting to get a pic of this famous head. However, there is normally a guard next to it to ensure people don't disrespect the Buddha head.
Ayutthaya is near to Bangkok (you can do a day trip there). It is a UNESCO World Heritage Site.
There is a lot of interesting history here. If you are interested you can read about it here.
Lopburi, the monkey city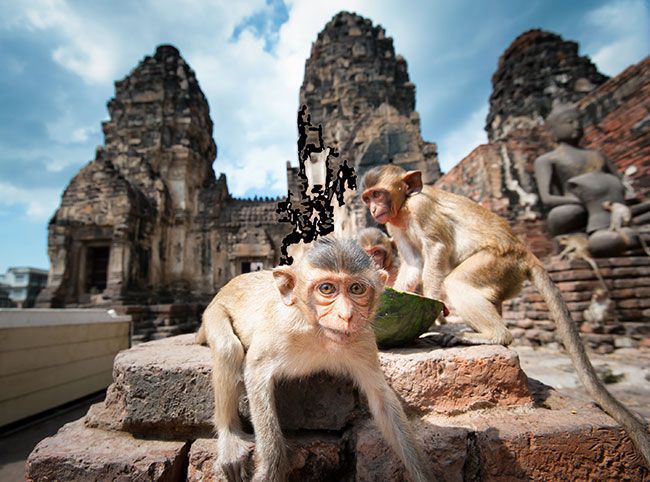 This is also near to Bangkok and you can also do a day trip there. It is a city that has been overrun (in some areas) by monkeys!
If you love animals I really recommend visiting Lopburi.
The city is a normal small city - apart from all the little monkeys running around everywhere!
They mostly stick to one small area with some temple ruins. There are people selling food (that you can feed the monkeys). However, the monkeys can be seen climbing up shop fronts, hanging from windows and walking along the pavement all over town.
I know some other places in the world have lots of monkeys walking about but I will never get bored of seeing things like this.
I have a full blog post on getting to Lopburi from Bangkok, where to go when there and what you'll see in Lopburi in this guide.
Kickboxing - Bangkok, Phuket, Chiang Mai, and most other big cities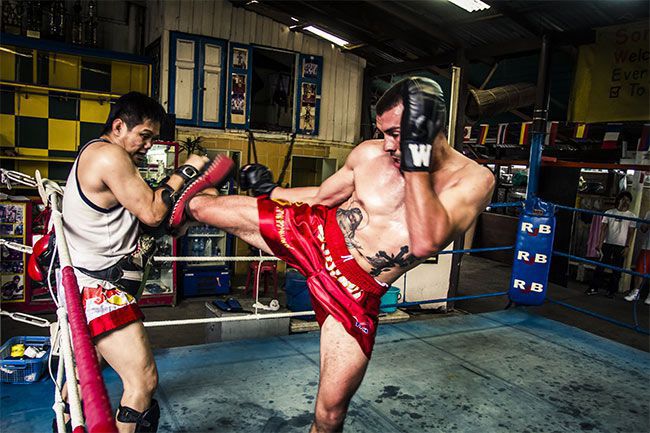 Kickboxing is Thailand's national sport. You might even be thinking of going to Thailand to train in kickboxing - it is common to see and hear of foreigners who specifically select Thailand as their destination because of the large amounts of kickboxing/Muay Thai/MMA training camps.
In the bigger cities, you can always find some kickboxing events going on several times a week. Normally there are posters all around town - but you can also have a look online. They are well advertised to foreigners and easy to find.
The sport is pretty brutal though! If you want a more tame version there are sometimes 'pretend' (acting, much like WWF) matches going on.
Full Moon Party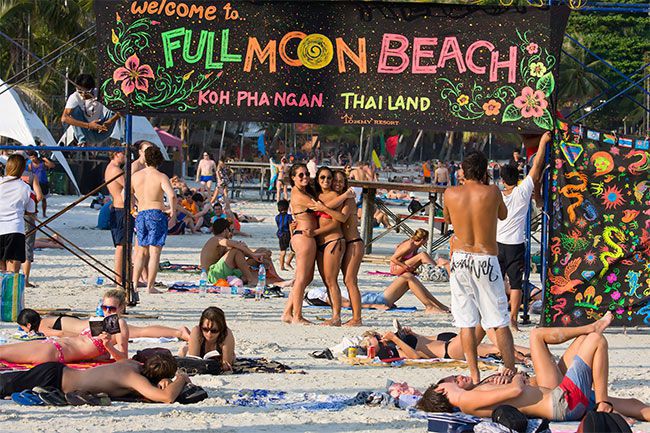 Thailand is famous for its crazy Full Moon Parties. They happen on the night of, before or after every full moon. There are also 'half moon parties' 2 weeks after the normal full moon parties.
They have been going since around 1985 and are a classic part of the backpacking route through Thailand.
As of 2018 up to around 30,000 people come to this island for the Full Moon Parties. That isn't a typo - 30 thousand!
You can find them on Ko Pha-ngan (an Island If you want to get wasted with thousands of others make sure to plan your trip around the dates that the Full Moon Party will happen.
Two very big tips:
Don't do drugs (Police work undercover, the locals and even the drug dealers themselves get some of the bribe money if they report you to Police, there is no point taking the risk of doing drugs at these parties).
Book accommodation early! It isn't a big island and the local guesthouse owners know that for the Full Moon Parties they can charge a lot higher rates.
The beaches!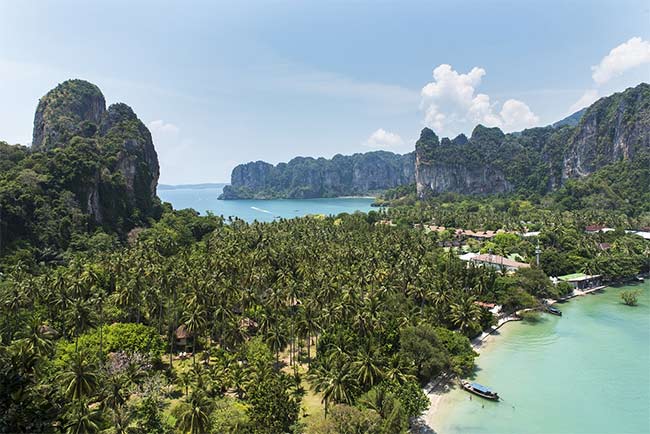 Thailand really is paradise on earth! There are so many natural views, thanks in part to its clear sea and many islands.
I know I've mentioned Phi Phi already but that it is just one of many beautiful beaches. (Some would argue that Phi Phi is the most beautiful, many think other beaches and islands are better. Either way, you can find many stunning beaches and islands in Thailand).
But as well as having nice sand and a fantastic place to relax, the beaches are often close to the next point on my list:
Some of the world's best scuba diving and snorkeling locations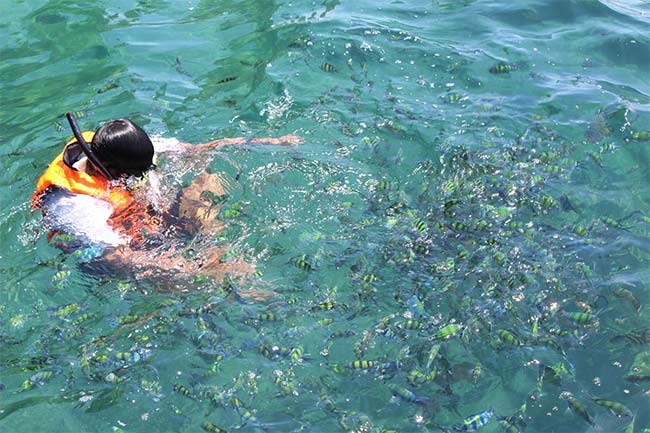 Many people come specifically to Thailand because of the underwater activities. There is a huge industry of companies who specialise in scuba diving (and it is one of the cheapest places on earth to get your scuba diving license).
If you are interested in going scuba diving then you should search on the web for these locations:
Sail Rock, Koh Tao
Surin Islands
Hin Daeng and Hin Muang (Phang Nga Bay)
Elephant Nature Park in Chiang Mai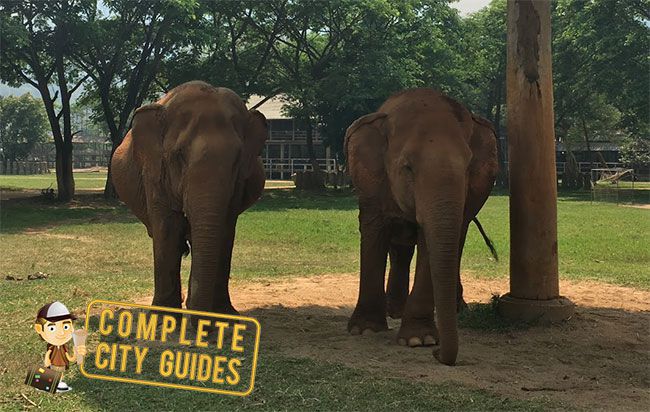 There are many elephant 'sanctuaries' but a lot are cruel (they used to openly abuse the elephants. Now a lot of companies rebranded themselves as a sanctuary but it isn't true). But the Elephant Nature Park (there are similarly named ones, so be sure to check it)! in Chiang Mai is legit. I visited it, felt the elephants were cared for. A really fun day out, it even included washing the elephants in the river and feeding them watermelons.
Unfortunately, it is full of the sad and depressing histories of their elephants. On the way to the Elephant sanctuary, they play a video in the van explaining how Elephants are used, abused and exploited. It is a sad reality that a lot of Thai's don't treat elephants with the care that we'd like!
I've written a full guide to the Elephant Nature Park in Chiang Mai here so I suggest you read it to find out more details about it.
Doi Suthep in Chiang Mai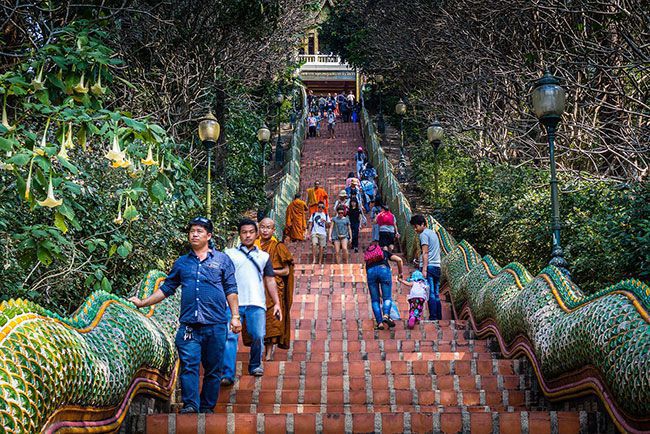 Doi Suthep is the most famous temple in Chiang Mai. The name 'Doi Suthep' actually refers to the big mountain that it is situated on but most people will refer to this temple just as 'Doi Suthep'. Its full name is Wat Phra That Doi Suthep.
It overlooks the city, from its point on the Doi Suthep mountain.
Erawan Falls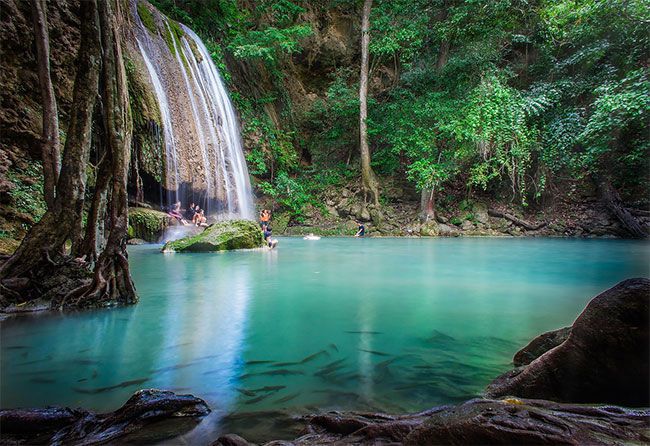 Located in Western Thailand (near Kanchanaburi) the Erawan Falls are famous worldwide for their beautiful surroundings.
It is named after Erawan (the three-headed white elephant of Hindu mythology) because the 7 tiered waterfall (not really shown in the pic, sorry) system apparently looks like it. I don't see the resemblance, but this whole area is amazing and you should try and visit it.
The most popular cities and islands to visit in Thailand
Thailand is huge, and there are many cities, beaches, and islands to choose from. The main ones that almost everyone goes to include:
Bangkok (capital) - almost everyone lands here on international flights. It's a great city, lots to see and do
Phuket (huge island, nice beaches, touristy) - full of tourists, but still really nice. Completely different feel than the capital
Koh Phi Phi (small islands - where The Beach was filmed) - the Phi Phi islands are some of the most popular islands to visit. But you won't want to spend more than 3 nights here. Most people just come on a day trip from Phuket or Krabi
Krabi (nice beaches) - less touristy than Phuket, but just as nice
Chiang Mai (a city in northern Thailand) - it is popular for foreigners to make the trip up to Chiang Mai. Lots of people do elephant sanctuary visits here.
While this guide has the aim of covering everything you need to know, I don't want to repeat myself. I've already posted an in-depth overview of every major tourist location you can visit in Thailand. So I recommend you click here to read about the major Thailand beaches, islands and cities and then return here to read the rest of my guide.
GUIDE TO THAILAND'S ISLANDS, CITIES AND BEACHES
It covers all the major areas that you'll probably want to stay in:
The gulf/central south

Koh Tao, Ko Pha-Ngan, Koh Samui

the Andaman Sea islands

Phuket
Koh Phi Phi (where The Beach movie was set)
Koh Lanta
Railay

Eastern Islands
Northern Thailand
Western Thailand

basically just Kanchanaburi

and then the day trips near Bangkok
If you want to read about Bangkok then there is a huge section on travelling to Bangkok here. BTW, read this guide on where to stay in Bangkok (which district to stay in).
If you intend on seeing more than one place (i.e. backpacking across Thailand):
I recommend you work out how long you'll be in Thailand. Then work out how many places you can realistically see.
You could easily spend 4-6 days in Bangkok, 4-5 days in Chiang Mai, 4-5 days in Phuket, etc. Don't try and cram too much in, because you want to enjoy your time abroad!
Once you have a rough idea of where you want to go, you will then need to plan how you are going to get between each place.
How to get between cities in Thailand (Plane, Coach, Train, Driving)
The main options for getting between the major cities:
Going by Coach/bus

Cheapest option
Can be unreliable - and prone to accidents
Most of the coaches are not going to be comfortable - but you can pay for the luxury / VIP buses and travel in comfort, get a nice bed etc

Travelling Thailand by Train

Still not very fast - Thai trains don't really run too quickly
Can be more comfortable
Can get your own cabin for privacy

Flying from one Thai city to another

fast and easy
More expensive than trains. But if you stick with the budget airlines it's not much more expensive (maybe 20%) on certain days.

Rent a car and have a road trip around Thailand!

Go at your speed, have privacy
I will almost always pick a flight that lasts 45 minutes than a train that lasts 6+ hours. I hate airports, find them boring, but they are better than being stuck in a train carriage or (worse) a bus!
But everyone has their own preferences, let me know in the comments what you prefer.
Nearby Countries Worth A Visit
Thailand has over 3,000 km of coastline. But it does also share borders Cambodia, Laos, Malaysia, and Myanmar. It is also somewhat close to Vietnam (it is common for travellers to visit Vietnam, Cambodia, and Thailand on one single (long) trip.
If you want to see one of their neighbours I would have to 100% recommend that you fly (probably from Bangkok or Phuket) to Siem Reap in Cambodia.
It is famous for Angkor Wat, the ancient temple ruins in the jungle. This is where some parts of the Tomb Raider films were shot. It is an amazing place, a breathtaking experience to see. However, the difference between Thailand and Cambodia is almost like night and day. There is a lot more poverty in Cambodia than in Thailand. I've heard that a lot of people who've gone from Thailand to Cambodia immediately regret that decision. But for me - I loved it!
When to visit Thailand
As I am writing this, it is the middle of September 2018. Look at the weather for this time of year: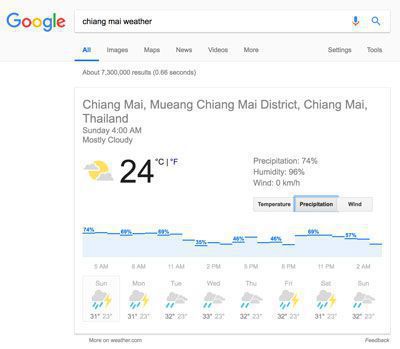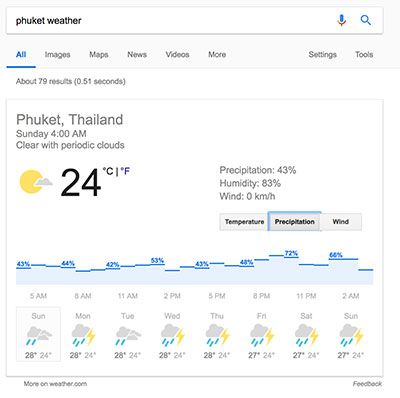 DO NOT ASSUME YOU CAN GO AT ANY TIME TO THAILAND - the rain will ruin your trip if you go in the wrong month
There are some websites that say you can visit all year round, but I really have to disagree. The rain will mean you have to constantly be thinking about the weather, instead of just enjoying the sun!
When is the dry season in Thailand? (i.e. what months are best to visit Thailand)
The dry season is from around November until mid-April. This is the best time to visit. (My favourite week to visit? Scroll down to read about Songkran in April!
When is the wet season in Thailand? (i.e. when should you avoid a trip to Thailand)
The rain season really kicks in at around June or July and lasts until October.
You should avoid being in Thailand during those months.
What about Songkran Thai New Year / Water Fights in the City
You may have heard about Songkran. It is known as the largest water fight in the whole world. Songkran is actually just on 13th April, however the festivities last around a week.
Entire cities turn into a water fight. Children obviously get involved (that would be obvious) but one surprising thing is that every adult will get involved too. I've seen some vicious Thai grannies throw ice cold water over strangers.
Anyone is fair game - you can just use a water pistol on anyone and anything.
Try and make sure that you are in Thailand for Songkran. Especially Chiang Mai (or Bangkok). It gets crazy there and is a very unique experience to see!
Warning: a lot of the water can be from any source, including rivers. It can be a bit disgusting.
How Long To Stay in Thailand How many days to spend in each city
This is a bit like the question "How long is a piece of string". However, the actual answer is this:
Stay for as long as you can get off of work! You won't be bored!
(until the rainy season comes. Then go somewhere nicer!)
Ok but seriously, this isn't an easy question to answer. If you are visiting Bangkok you should stay for quite a few days. It is a huge city, and has quite a few options when it comes to nearby day trips - so you won't get bored.
Some of the islands just need a day trip (or a maximum of a couple of nights).
Here are my suggestions. Everyone will have their own views - please feel free to leave a comment suggesting something else. This is assuming you make use of the major and common tourist attractions and day trips.
| Destination | Minimum # of full days | You might start to get bored after ... |
| --- | --- | --- |
| Bangkok | 4 full days | 7+ days |
| Koh Tao | 3 days | 5 days - but if you come here to snorkel you could stay longer and not be bored |
| Ko Pha-Ngan | 3/4 days | 5/6 days |
| Samui | 3 full days | 5 days |
| Phuket | 4 full days | 6 days |
| Koh Phi Phi Islands | Half day boat trip from Phuket or Krabi is enough | Don't stay for more than 4 nights |
| Lanta | 2 days | 3 or 4 |
| Railay | 1 full day | 2 or 3 nights |
| Koh Chang | 3 days | 5 |
| Koh Samet | 2/3 days | 4/5 days |
| Chiang Mai | 3 full days | 5+ days |
| Pai | 2 days | 3 days |
| Kanchanaburi | 3 nights | 5 nights |
| Ayutthaya | half day trip | max 1 night |
| Lopburi | half day trip | max 1 night |
These are very rough estimates. Like I said, everyone will have different views on this. But you should be able to get an idea in your head of how long to stay in those places.
Staying Safe
Thailand is an extremely safe country. But you do end up hearing a lot of horror stories. I do believe though that if you behave well, and are aware of common scams that you will have a 100% fun experience in Thailand.
Guide to Doing Drugs in Thailand
Don't do drugs in Thailand.
I repeat: Don't do drugs in Thailand. And don't even do them before you enter the country.
The police can (and will) do urine tests. If you come back positive (even if you took drugs before entering the country, and have no drugs on you) you will be arrested.
These tests really do happen:
"I've been stopped and searched 3 times in the last 4 months (at random times during the night), once even by 2 cops while I was walking on an empty street. In all instances, the police officers were very friendly & no drug tests.

Are these horror stories actually real? For sure, but then again, we're talking about Bangkok, a metropolis with millions of tourists every single year ... that's what you need to keep in mind."

Source
Guide to Drinking Alcohol in Thailand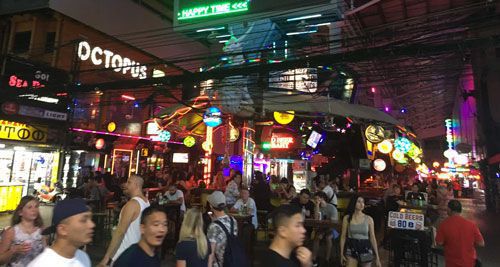 Thailand is a cheap country. You will rarely think something is expensive.
But alcohol is not cheap - especially if you go out drinking in bars and clubs.
But the same could be said for many other countries too.
Beware of Common Thai Scams
Thai people are very friendly, talkative and seem genuinely nice.
And then there are taxi/tuk-tuk drivers. They will try and scam you.
There are actually many famous scams that go on in Thailand. Please be aware of them as you will almost certainly encounter some of them!
But don't let this worry you! If you are aware that it is a scam you can just walk away and nothing will happen. They target on the idiots who believe what they're saying.
"The Grand Palace is closed" scam
You walk to the grand palace (or another attraction) and a 'helpful' guy will tell you its shut today. But luckily he knows another one that is even better and luckily he is a tuk-tuk drive so can take you there. You will end up in their TukTuk, and they'll stop off at a jewelry store (or a tailor shop if you are a guy). The tuk-tuk driver gets paid for every foreigner that they bring to that business. You will be really pressured into buying some rubbish gifts. Sometimes it'll be in the middle of nowhere, and your Tuk Tuk drive will refuse to drive you back until you pay him more money.
If someone tells you a tourist attraction is shut - ignore them! They might even prove it by taking you to the wrong entrance, so you'll hear (in Thai) that you are told to go away. It isn't shut. Just find the real entrance.
Official looking (with nametag) helpers at train stations/other tourist places
After you enter a train station, someone with an official looking badge and uniform comes up and speaks in English offering to help you. If you accept, they'll take you to their business where they'll sell you expensive train/bus tickets. Just say no thanks and go to the normal ticket counter.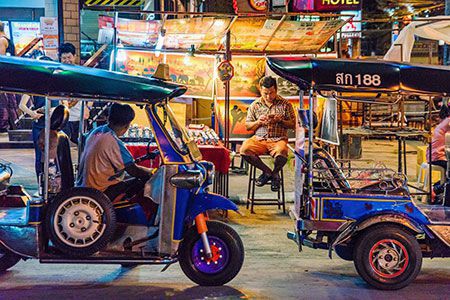 Taxi drivers/tuk-tuk drivers
Always check your change, always agree on a price before you go OR ensure the meter is running. Otherwise, you'll definitely get scammed.
If you look like you are new in town they'll quote you a high price, drive longer routes and give you the wrong notes as change.
I've noticed though that EVERY time a taxi/tuk-tuk driver in Bangkok gave me the wrong change (I always check it) and I told him it should have been the actual amount, STRAIGHT AWAY they give the real amount. If it was an honest mistake they would surely question it and double check. They know exactly what they're doing.
The fake gem scam
You go to a shop, they sell you a bunch of gems at 'wholesale' price. They tell you how much you can resell them for once back at home. They are just lying. Other western tourists might be around who chime in and say how they've followed the shop's advice and made lots of $. They're not worth 10% of what you paid.
The caged bird/bird release scam
This isn't just a scam, but absolutely horrible animal abuse. They will cage up a bird (often in such a tiny cage it can't even move - this is so you feel sorry for the animal). You can pay for them to be released.
If no one gave them money then this scam wouldn't work. You might be releasing ONE bird, but often these birds can't fly away anyway (or not far) and will be caught a few minutes later. This is horrible animal abuse.
Bar girl scam
You meet a couple of girls (note: they often aren't hot or anything), they start chatting and often they are new to the city. So why don't all of you go exploring? Somehow they direct you to go to a certain bar. You all sit down, order drinks. At some point, the girls disappear, and you are left with a very expensive bill. The drinks are 10-20 times what they should cost. Some big guys will beat you up if you don't pay. They'll drag you to an ATM machine. This scam happens worldwide, in every big city.
The Jet ski Scam
You go to rent a jet ski. You agree on a price. They take a photo of you next to your new toy. You go out for 30 minutes. When you come back you see there is lots of damage to the jet ski. They have photo proof that when you started it was in perfect condition.
The damage was always there. They just hide it in the photo (or it was covered up with something that disappears after you have spent 30 min in the water.
The Police will be called (by you or them), but the Police are in on this scam too. You'll lose a lot of money here.
Just don't rent jet skis. There is too much risk of being caught out in this scam. It is very popular.
This is just a summary of the common scams. Many more happen in Thailand. Check out this comprehensive list.
Thai Customs and interesting stuff
Thai people are lovely! They will mostly speak good English to you in any tourist area you'll end up. Even if they don't, they will often try and help and won't just dismiss you for not speaking their language. The county is known for its smiles - the locals just always seem so happy!
There are some peculiar things about Thailand though:
They LOVE their king - actually, as I understand it, they really loved the old king (Bhumibol Adulyadej, he died in 2016) and the new one is still very much adored. I've heard a thousand times how you should never say anything negative about the kind (current or former), and should never insult them. People have been imprisoned for insulting the King. It's a serious deal.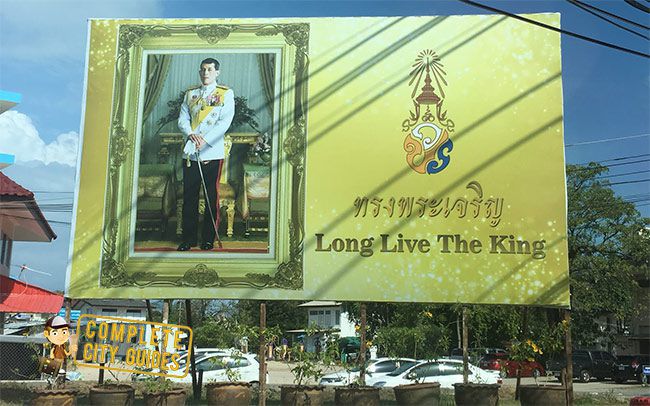 I recommend that while you are in Thailand you go to a cinema (maybe in one of the malls in Bangkok). Even if it is 40°C (104°F) outside you should bring a jacket and not wear shorts. They seem to love to go to a cinema and feel the aircon maximum. It almost feels like a walk in fridge! (That might be a bit of an exaggeration but you really will be cold if you go to the cinema in Thailand in shorts and a vest top!).
Another peculiarity of the cinema in Thailand is that at the start of every film there is a short video dedicated to the king. Everyone stands up for this. You should too!
Some other things about Thailand that don't really fit anywhere else:
There are over 30,000 temples in Thailand. After travelling for a few weeks there (or elsewhere in this part of Asia) you'll really start to feel that you've seen enough temples to last you a lifetime!
Siamese cats are originally from Thailand! The old name for Thailand was "Siam".
Thailand was never invaded by Europeans! The name Thailand means "Land of the Free"
While on the topic of names, Bangkok's full name in Thai is Krung Thep Mahanakhon Amon Rattanakosin Mahinthara Ayuthaya Mahadilok Phop Noppharat Ratchathani Burirom Udomratchaniwet Mahasathan Amon Piman Awatan Sathit Sakkathattiya Witsanukam Prasit. It translates as "The city of angels, the great city, the residence of the Emerald Buddha, the impregnable city (unlike Ayutthaya) of God Indra, the grand capital of the world endowed with nine precious gems, the happy city, abounding in an enormous Royal Palace that resembles the heavenly abode where reigns the reincarnated god, a city given by Indra and built by Vishnukarn". Most people in Thai will refer to it as just "Krung Thep". (source)
What Vaccinations Do You Need for Thailand?
I always get the required vaccinations. I also always make sure I have the rabies vaccination because I love to play with animals (and there is a chance of a dog or monkey having rabies). Doctors have questioned it before, asking why I bother with the rabies injection, so I guess it isn't too common to get that. Anyway, I'm not a doctor - please consult one. You can find websites such as here with a good starter overview of what injections you need to get.
You will end up hearing or reading a lot about the mosquito problem. If you have enough DEET on, they won't be a problem (however you will stink of Deet and get stains on clothes and anywhere you sit). Check out this guide on fighting mozzies in Thailand.
An important note about what not to do when it comes to animals Tiger Kingdom, Riding on Elephants Backs
While I am sure that many Thai people adore animals, the level of animal cruelty that you can see on the streets in Thailand is much worse than in Western countries.
There are several popular types of attractions (popular with tourists) that are just really cruel.
Tiger Kingdom
Some of the tiger attractions let you pose next to a tiger, take photos, stroke them, etc. They are only docile because they are threatened with violence and very drugged up. This is not a nice life for the animals to suffer just so you can have some Instagram photos.
Some of these places claim that they train them humanely and that they aren't drugged up. It isn't true.
Please don't support these horrible businesses.
Elephant rides and Elephant Parks
Elephants are not like horses which can support the weight of a human. An elephant who has given many rides over its lifetime always develops back problems. And remember that it isn't just the weight of 1 person + a horse saddle like what a horse has. An elephant ride is normally for 2 people, with a huge elephant saddle.
And I'm not even covering the way they train the elephants - Go look on Youtube, the methods are horrific. They are physically abused until they lose the will to fight back. Most of the cruel elephant parks have keepers next to the elephant holding metal sticks with sharp ends, which they'll stick into soft parts of the elephant's skin to control it. This is not a good quality of life for an animal.
Because the public is starting to realise that a lot of cruelty goes on, many of the cruel elephant parks rebranded as sanctuaries (there are actually very few genuine ones in Thailand). 5 years ago they were publicly abusing these animals and making them do circus tricks. Now suddenly they pretend that they are a sanctuary or 'elephant retirement facility'. This isn't true - they still abuse the animals so that tourists can feed, ride, play and bathe them.
I realise the slight hypocrisy here - I recommend Elephant Nature Park in Chiang Mai in this guide. But I've done hours (days?) of research and watched almost every YouTube video I could find on most of the elephant places in Chiang Mai, and it was the only place where there was never a bad word.
See this explanation of an elephants spine. They are not for riding. Please don't ride on one or support anyone or any business that promotes this.
Paying people in the street to take a photo next to their 'cute' animal
When walking around tourist areas you might see someone with a gibbon or loris around their neck, and they'll offer you the chance to play with it if you pay them. This again is cruel. These aren't animals like cats or dogs. They don't like being around people, and the owner will use pain to control and train it.
The poachers will often take them from the wild. All you are doing by giving these people money is promoting animal abuse.
Ok, so that is the end of this guide!
Please leave any questions in the comments below. Please explore the other Thailand travel blog posts here.