Top Facts About Minsk You Didn't Know
Minsk is a bit of a mystery to a lot of people. Some might struggle to place it on a map. But here are some interesting facts that you probably didn't know about this great city. And also a few facts about Belarus too!
Some quick basic facts about Belarus first:
Population

9,498,700

Area

207,595 km2 (80,153 sq mi)

GDP

$176 billion

GDP per capita

$18,616
And some quick basic facts about Minsk
The capital of Belarus
On the Svislach and the Nyamiha Rivers
Population

City : 1,921,807
Urban area : 2,101,018

Area

409.5 km2 (158.1 sq mi)
Minsk has the HQ of the KGB - and it is still in use
Belarus is one of the few countries in the world to still have an active KGB department. This yellow building is their HQ.
It is illegal to take photos of these government buildings (although no one seemed to mind when I was there).
You can also find a huge Lenin statue, and again because the building behind it is owned by the governemnt you're not really meant to take any photos of it.
Minsk is full of fountains!
There are over 100 fountains dotted around the city. They even have events where they turn on lots of fountains all at once.
The oldest dates back to 1874, and can be found in Aliaksandrauski Park. It was built in honor of the launch of the water supply system for the city!
You can find one at Nezavisimosti Square) which has the most amount of jets (70).
Minsk's main street - (Independence Avenue / Praspiekt Niezaliežnasci) - is over 15km long!
Its main street is HUGE! It dates back to 1801 and if you visit Minsk you are sure to see it.
Independence Avenue crosses Minsk radially from its center towards the North-East.
You can pass many tourist attractions while walking (or driving) along it, including Independence Square, KGB headquarters, October Square, Gorky Park, Yakub Kolas Square and the National Library.
The average temperatures in Minsk vary from really cold to quite nice!
The average temperatures in Minsk vary quite a bit. The summers are hot (hotter than that page suggests) and can be really humid.
But a lot of the winter time is spent at least several degrees minus 0!
It used to be expensive to get a visa to Belarus... now it is visa-free for most people
Of course there is some small print related to their offer of visa free tourist travel... You can stay for a maximum of 5 days and must fly in/out of their main Minsk airport. But it is a better situation than before. These changes went into place at the start of 2017.
42% of the country is covered with forests!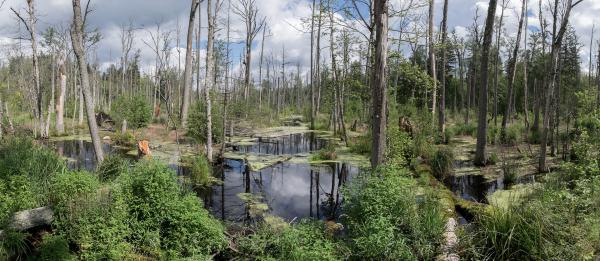 But despite this fact, their Wikipedia page for "Forests of Belarus" is tiny!
One of its most famous ones is the Białowieża Forest (Белавежская пушча in Belarusian), which spans over 3000+ km2 over Poland and Belarus.