The Top Go Pro Accessories That You Need When Travelling!
The GoPro camera has become the camera of choice for many when they go away travelling. They are waterproof, light, tiny, and can take some amazing photos and videos. But when you go on Amazon and search for GoPro accessories you can search for hours and not finish seeing new items. So which GoPro accessories do you actually need to take when you when you go travelling?
The crucial Go Pro Accessories for Travelling
Spare Batteries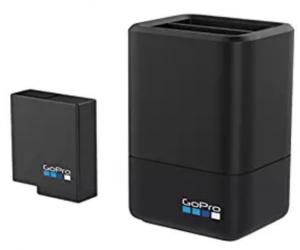 These are crucial! You don't want to miss out on recording something because your battery is dead.
The official GoPro batteries are expensive, but there are third-party battery alternatives that are much cheaper.
In the past, there have been GoPro updates which made unofficial GoPro batteries not work. So be cautious when buying 3rd party batteries. Having 2 official GoPro batteries plus some cheaper 3rd party backup batteries is a good idea.
Spare SD Cards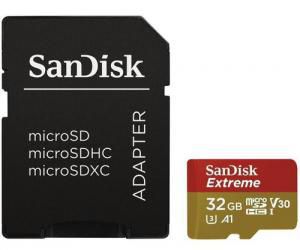 This is just like with batteries - you don't want to run out of space! Get at least one spare SD card.
Gorillapod (Or similar tripod)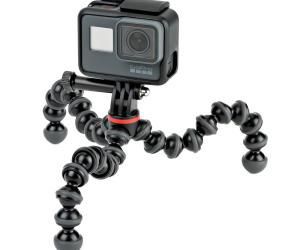 These are very handy - and if you have other cameras (or a smart phone, with a small adapter) then you can use it for those too.
You can bend, twist and shape a GorillaPod to hold onto almost anything.
Some people recommend getting the cheaper non official Gorilla Pods. My experience with them has always been that the official Joby GorillaPods are much better quality and hold much better than unofficial ones.
A Mount That Floats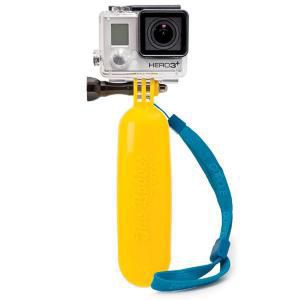 Going anywhere near water? Then don't leave without attaching your GoPro to something that will float!
Backpack Strap Mount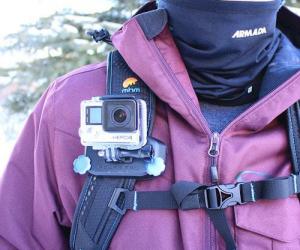 PolarPro have a "Strapmount" for the GoPro. I really recommend it. With the new GoPro Hero Black 6 (and its good image stabilisation) you can walk around with a backpack on and record what you get up to. It won't be perfectly filmed footage (although you can help it by holding the clamp when recording while it is still on your backpack strap) but you will probably be surprised with the quality you can get. And it is so easy to always have it there attached to you!
Clamp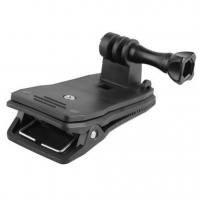 An alternative to the PolarPro strap mount are the cheaper ones that look the image here. They often rotate (which the PolarPro one won't do), and have a strong grip that should hold on.
Optional, but often useful GoPro accessories that you can use when travelling:
GoPro Remote Control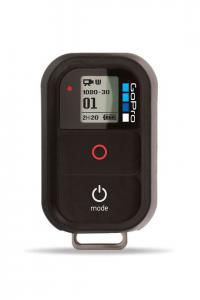 The GoPro remote control can be handy, but then if you have a smart phone running iOS or Android then you can always use the GoPro apps to control your GoPro remotely.
Selfie Stick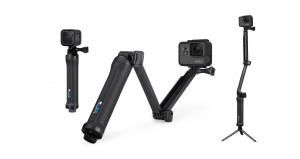 Selfie sticks are everywhere. Get a GoPro mount attachment so you can use your current selfie stick, or get one that is built just for a GoPro (like the image).
GoPro Accessories that you will probably not end up using while travelling...
Chest Mounts - Don't bother unless you are really sure you will use it!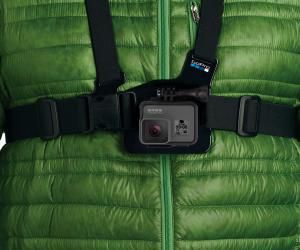 Unless you are going to be doing some sports (like biking) then I really doubt you would use this in public. Get a backpack strap mount, they work almost as good and don't make you look ridiculous in public.
Head Mounts - Unless you are 110% sure you will use this, don't order it on Amazon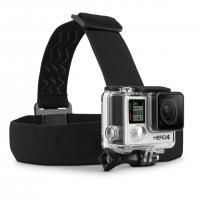 See above! These look even more stupid when worn in public!
Things you should get if you are really serious about making travel videos
Gimbal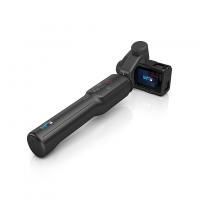 If you want really smooth footage then you really should consider getting a gimbal. There are official GoPro ones but you can also use a mount for most gimbals that are designed for smart phones (or other low weight cameras).