Best Things To Do In Rome
Rome is one of the most popular tourist destination in Europe. It attracted nearly 10 million tourists last year (2017), and I can really see why. It is absolutely packed with history and loads of cool attractions to see!
Even if you've not visited Rome you are very aware of the main Rome landmarks. They are famous world wide, and if you are a ancient civilization history buff then rome will feel like heaven to you.
So what are the best things to see and do while in rome? Take a look!
Baths of Caracalla
The Baths of Caracalla are the ruins of a public bathhouse dating back to the ancient Roman times in the 3rd century. This isn't as popular as some of the other landmarks in Rome that are on my list - but I think more people should go and see this. You can also take a virtual reality tour which shows you how the area used to look when they were first constructed. Or at least how they think it looked. It is very close to the Circus Maximum (an ancient Roman stadium, often used for chariot racing)
One weird thing though is that there is lots of modern art there. It seems out of place. But anyway, go and take a look. It covers a huge amount of space (25 hectares) so you can take your time there!
It is open from 9am until 7pm (apart from Monday where it closes at 2pm). Normally entry price is cheap, but if you go on the first Sunday of the month, it is free. It is also very wheel chair friendly, which is suprsing for an area with ancient ruins (I don't notice this being the case in other places, but maybe I've not been paying attention).
Pantheon
Pantheon is one of the most well known landmarks in Rome.
Pantheon Opening Times: It is open every day from 8:30 AM - 6:00 PM (8:30-7:30 Saturday, 9:00-6:00 on Sunday)
For a building that is over 2,000 years old it is in remarkable condition. I think it is regarded as one of the best preserved buildings from the ancient times. It really is a wonder, and you HAVE GO TO SEE IT! I recommend doing some reading about it before hand, to know its history (I don't want to make this blog post focus too much on the Pantheon)
It doesn't take long to see (you can probably see it within 15 minutes), and it is free to enter. But like all the main landmarks in Rome, you should expect it to be very busy especially in the summer months.
Many people are burried here (since the Renaissance period it has been used as a grave church). In front of the Pantheon is Piazza della Rotonda.
It was originally built in wood in 27 b.c. by Marcus Agrippa, but after a fire destroyed it, it was reconstructed by Hadrian a couple of hundred years later. It is full of marble statues of Roman gods.
Just go and see it! It is amazing!
Roman Forum
The Roman Forum (Forum Romanum) is, like many of Rome's landmarks, a worldwide known tourist attraction. It used to be the center of Rome (with many commercial, political and religious affairs going on) in ancient times. After the Roman Empire fell the area became a forgotten memory, and farmers used the area.
Now it is one of the most impressive tourist attractions in modern day Rome.
As you walk through this huge archaeological site you can really get a feel for how it would have been back in 500 BC. It is amazing that anything can exist from so many years centuries ago.
Rome's Colosseum
I know I keep saying this for all of the landmarks on this list, but you have got to make sure you find time to go and see the Roman Colosseum.
It used to hold a huge 50,000 people (although it is claimed up to around 85,000) as they used to watch bloody flights to the death. It was built in 80 AD, and in its famous 100 day inauguration around 2000 gladiators died (and 9000 animals).
There are lots of steps, it is quite an active walk when visiting it. Like the Pantheon, I really recommend that you read up about the history of the Colosseum before you visit to really appreciate it.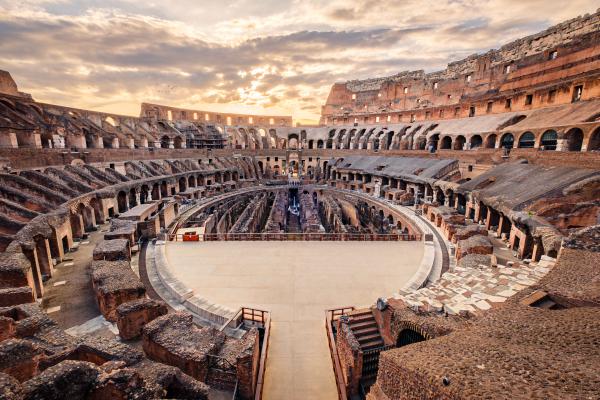 Make sure to get your tickets sorted in advance, as you might not be able to get them on the day.
The normal ticket price isn't too expensive - only 12 euros. But you might spend upto 2 or 3 hours queuing. If you want to avoid this then you can pay for express entry via companies like Get Your Guide (I have no affiliation with them - but they can help you get tickets easily and avoid the queues). See details here. I haven't used them, but have heard about them. Let me know in the comments how it works out.
You can get tours for €5
Vatican City
If you are the type of person who likes to count the number of countries they've visited, this is an easy +1 to your count! While in Rome, head over to Vatican City.
It is really busy and popular - especially on saturdays. Some people say it is the best part of visiting Rome. Personally I prefer the ancient ruins, but you should still not miss this!
You probably won't get to see the Pope though!
You can spend several hours at once there - I recommend getting a guide for a couple of hours to explain everything. There is so much to see there, so much history and a huge fine art collection.