Budapest in 48 Hours
Budapest is an amazing city and has everything I think most travellers need from a city:
Lots to see and do - it is hard to be bored there!
It is a big city, but you can still get everywhere on foot. And when you need to use public transport (metro (underground)/bus/trams) they are really cheap, fast and reliable.
It is cheap! Especially compared to cities further West in Europe.
The people are friendly, and it is really easy to get around knowing only English.
And it is a beautiful city with lots of really nice views!
We recently spent 48 hours in Budapest. Here is what we got up to - maybe it will give you some ideas of things to see and do while visiting Budapest!
Arriving in Budapest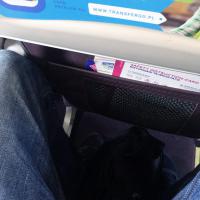 We flew from Warsaw to Budapest.
Unfortunately we flew with Wizzair, and their aircraft have almost no leg space.
But, it was a quick flight and we were soon through the airport and trying to work out how to get to the city center of Budapest!
Getting from Budapest airport to the City Center
We were staying in the middle of Budapest (on Nagymező Street), so we had to work out how to get near there. There were taxis outside, but we had been told by a friend that it is simple to get a bus.
We found the queue outside the airport (terminal 2) for bus 200E. We bought a bus ticket from a machine, and stamped (validated) it as we walked on.
The machines were in English, but their touch-screen was not very responsive. We stayed on until the final stop (25-30 mins, to Kőbánya-Kispest Metro Station), and from there went to the underground and route M3 until we were on a stop near where we were staying.
Like the bus, we bought a ticket beforehand and validated it in the machines at the entrance to the underground station.
We stopped off for some quick Asian food at B40 Wok and Walk, which was really tasty. If you walk past it, check it out!
Day 1: Exploring the city by day
Freedom Square and The U.S. Embassy
Next to the U.S. Embassy is Freedom Square, with its Soviet Monument in the middle. This is one of just a few Soviet monuments that still remain in Budapest. It was built to honor soldiers of the Red Army that died during the liberation of Budapest (1944-1945).
Titiz Restaurant
We couldn't walk past this place without taking a photo...
Checking out apartment prices in Budapest
Everything in Hungary seems really expensive. Drinks are 300-600 HUF. House prices are always in the millions. Of course, this is just because of the exchange rate. But the numbers seem so high! Easy to be a millionaire in Hungary!
Hungarian Parliament Building
We walked down towards the river (its a big city, but you can walk almost everywhere) to find the Hungarian Parliament Building.
It is located right on the bank of the Danube river (the first photo below is taken from the other side).
The area it is on (called Kossuth square) is a nice area for photos and checking out. We ended up taking lots of panoramic photos here, but they all came out too dark...
Walking past the Parliament building, we quickly found the river.

Polish + Hungarian's love each other!
The two countries have a lot of ties, and generally very much like each other. We found a few Polish signs around the city from time to time...
Sightseeing!
You will find lots of statues, like this one, dotted around the city of Budapest. Check out here for detail about some Budapest statues.
Crossing the bridge from the east side to the west side, where the castle is.
You can either walk up the hill by yourself, or queue (for a long time) for a short ride up the Funicular. Check out more details about the Funicular here.
The view from the top is nice. The whole 'ride' feels like it is over in around 30 seconds though, so if you want a photo be sure to get your camera ready!
The view over the river from the castle is amazing and well worth going to the castle just for the view alone!
The city is a fully working capital, and doesn't feel too touristy - but there are tons of tourist shops for souvenirs.
One of a few British themed pubs, this was the Pointer Pub.
A very cool thing to check out is the Budapest Ice Bar.
Szimpla Kert is a must see. It is one of the most popular and coolest bars in Budapest. It is one of the ruin bars, and late in the evenings it is guaranteed to be busy!
There are lots of smaller bars and hidden areas to discover. And if you get hungry there are food trucks right next to it. Definitely try and check this place out! Expect long queues on Friday and Saturday nights.
A short walk from the river is Heroes Square. Behind it is the massive City Park and Vajdahunyad Castle.
The zoo, right next to City Park.
But soon after a super quick trip, it was time to go home!