From www.CompleteCityGuides.com
http://www.CompleteCityGuides.com/krakow/things-to-do/st-marys-church
Please tell your friends about this page! Facebook message them this page so you can find it when travelling!
Complete City Guides Home
»
Destinations
»
Krakow
»
Tourist Attractions
»
St Mary's Church
St Mary's Church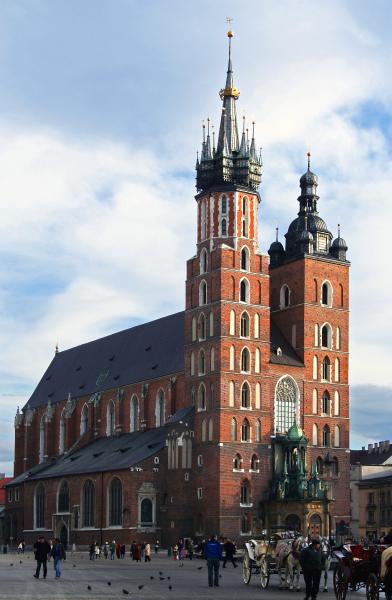 ---
St. Mary's Basilica, or "Kościół Wniebowzięcia Najświętszej Maryi Panny (Kościół Mariacki)" in Polish is a huge landmark on the main square in Kraków. It is on the north east corner of the main market square (Rynek Głowny), and is very hard to miss.
It was originally built in the 13th century, but is still in great shape even today.
Address
St Mary's Church, Krakow, Poland
---
Map of St Mary's Church in Krakow
St Mary's Church, Krakow, Poland
Opening Hours
Use information here at your own risk. Please contact St Mary's Church to verify this is correct.
Mon-Sat: 11:30am - 6pm
---
Related Attractions in Krakow
---
Be the first to know about our other top travel tip blog posts:
Want to see more about Kraków?