When I travel, I love to be able to land in an airport and be in the city center ASAP. But some cities are a bit of a nightmare for this - the airports are either really far away or there are awful public transport options.
So I've gone through the major European city hotspots and worked out the top 10 European airports that are close to the city center.
I've mostly focused on fun/interesting cities, with airports that serve the major low-cost airlines, such as Ryanair, Easyjet, Wizzair etc. These airlines will often have very cheap flights, so when combined with a city center that is close (so cheap public transport into town) you can have a super cheap city break. And if the airport is so close to the city center, even if you are there only for 24 hours you can still spend plenty of time in the city and not travelling between airport and city.
There are going to be airports really close to popular cities but not included in this list if they aren't popular for 'normal' city break trips. For example, London has London City Airport very close to the middle of the city. But I've never heard of anyone using it for a city break - so it is not included in this blog post! Also all prices are accurate as per our research in April 2016 (Euro or US Dollar conversions are estimates). Please double check everything before you make a trip - public transport and other details change from time to time!
Tallinn Tallinn Airport
(Estonia)
4 km / 2.5 miles between Tallinn City Center and Airport
---
Marrakech Marrakesh Menara Airport
(Morocco)
5 km / 3 miles between Marrakech City Center and Airport
---
Vilnius Vilnius Airport
(Lithuania)
5.9km / 3.7 miles between Vilnius City Center and Airport
---
Lisbon Lisbon Portela Airport
(Portugal)
5.9 km / 3.6 miles between Lisbon City Center and Airport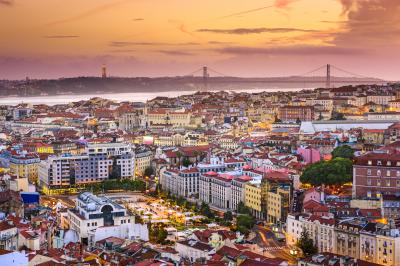 Lisbon Airport to City Center times and costs
---
Bratislava Bratislava Airport
(Estonia)
9 km / 5.6 miles between Bratislava City Center and Airport
---
Riga Riga International Airport
(Latvia)
10 km / 6.2 miles between Riga City Center and Airport
---
Copenhagen Copenhagen Airport
(Denmark)
12 km / 7.5 miles between Copenhagen City Center and Airport
---
Krakow John Paul II International Airport Kraków–Balice
(Poland)
13km / 7 miles between Krakow City Center and Airport
---
Manchester Manchester Airport
(UK)
13.9 km / 8.6 miles between Manchester City Center and Airport
---
Berlin Schönefeld Airport
(Germany)
18 km / 11 miles between Berlin City Center and Airport
---