From www.CompleteCityGuides.com
http://www.CompleteCityGuides.com/krakow/best-locations-to-stay
Please tell your friends about this page! Facebook message them this page so you can find it when travelling!
Where is the best area to stay in Krakow?
If you live in Kraków the city seems huge - but as tourists it seems very small. Almost all of the areas that tourists would want to visit are within walking distance.
(There are areas like Nowa Huta, but if you are a tourist save yourself a lot of hassle and don't stay there!
There are two main areas - Old Town (green in the map below) and Kazimerz (yellow, on bottom right of map below).
Tourists tend to spend more time in the Old Town area (around the main market square), but Kazimierz is popular too.
The green area in the map below is where we would recommend people stay, if booking a hotel/hostel/apartment. An alternative could be in Kazimerz (bottom right of map, in yellow). The orange section is also a short walk to the main square, so is another option. We really would not recommend staying somewhere if it isn't on any of the highlighted areas of the map, as there are loads of hotels/apartments/hostels in the shaded area and you will have to walk a long distance or get trams/busses.
The white area in the middle (directly behind the big black 'Kraków' text) is the Old Town's Main Square.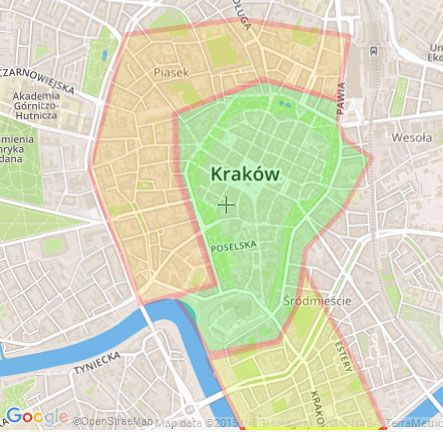 ---
Be the first to know about our other top travel tip blog posts:
Want to see more about Kraków?