From www.CompleteCityGuides.com
http://www.CompleteCityGuides.com/krakow/things-to-do/milkbar-tomasza
Please tell your friends about this page! Facebook message them this page so you can find it when travelling!
Complete City Guides Home
»
Destinations
»
Krakow
»
Tourist Attractions
»
Milkbar Tomasza
Milkbar Tomasza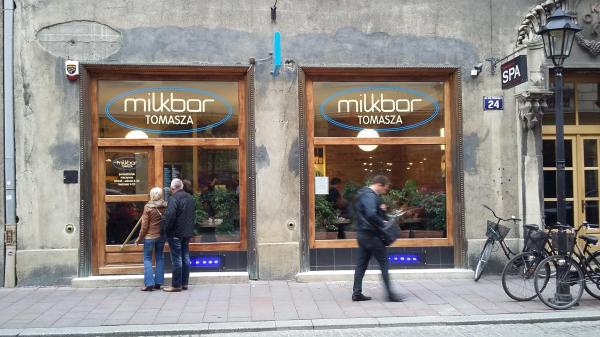 ---
Poland is famous for its "Milk Bars", which are cheap restaurants (more like a cafe). But the Milk Bar on Tomasza street (in Old Town, close to main square) is really high quality food for nice cheap prices.
They also do the best English fry up breakfast (actually, it is an Irish breakfast) in Kraków - so if you are looking for an Full English or Irish Fry Up Breakfast, then go there!
Address
Ulica Tomasza 24, Krakow, Poland
---
Location in Krakow
Old Town
---
Facebook
---
Map of Milkbar Tomasza in Krakow
Ulica Tomasza 24, Krakow, Poland
---
Related Attractions in Krakow
---
Be the first to know about our other top travel tip blog posts:
Want to see more about Kraków?