From www.CompleteCityGuides.com
http://www.CompleteCityGuides.com/venice/murano
Please tell your friends about this page! Facebook message them this page so you can find it when travelling!
Murano - Full Guide and How To Get To Murano from Venice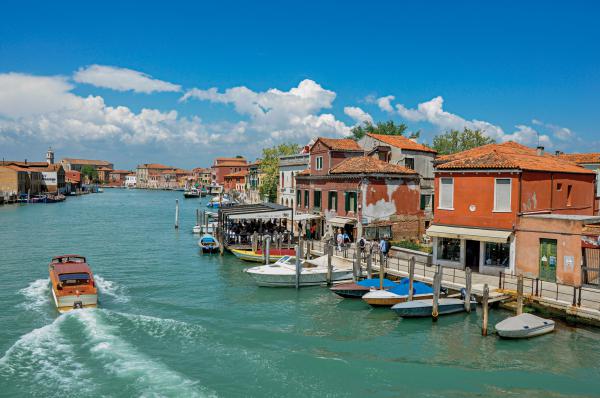 Murano is a little island around 1.5km (1 mile) away from the main Venice island.
It is like a little version of Venice - with a big main canal splitting the island in two (like Venice) and lots of canals (again, like Venice). However it has a very different vibe to it and you should definitely consider checking it out while you are in Venice.
Check out our
Venice Itinerary
for a guide on when to visit Murano and what else to do that day!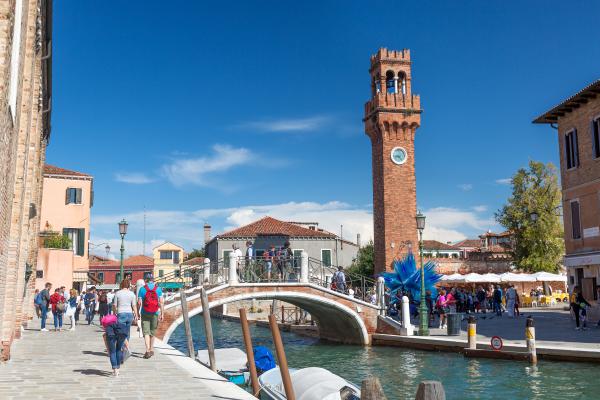 There are around 4,500 residents in Murano, and you may have heard about its famous glass production. When walking around you will find many shops selling this Murano glass. However be warned that almost all of the cheaper glass souvenirs are just imported Chinese products and not made locally.
Getting to Murano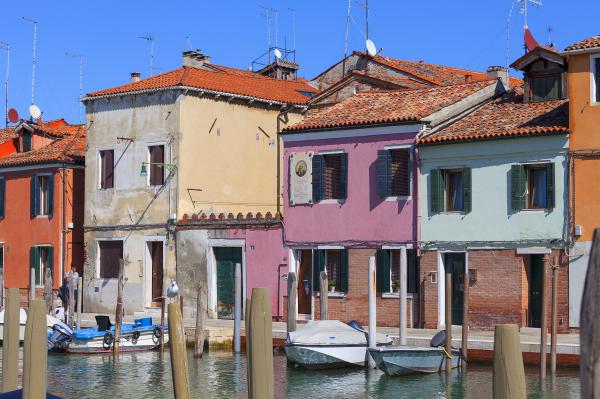 Take a water bus to Murano. It is recommended that you do a 24 hour pass and use it to see Burano (a nearby island) too. See our guide on public transport.
Things to do in Murano
Explore on foot!
Most tourists just stay for a couple of hours, walking around the island. The island is small enough (approx 1.5km wide) that you don't have to worry about maps or getting lost. Just wander, it will be obvious what paths are worth walking down.
There are a few sights to see (below) but the main attraction is really just exploring on foot and seeing this interesting island.
Campo Santo Stefano
One of Muranos most popular tourist sights. Famous for its 19th century clock.
Basilica dei Santa Maria e San Donato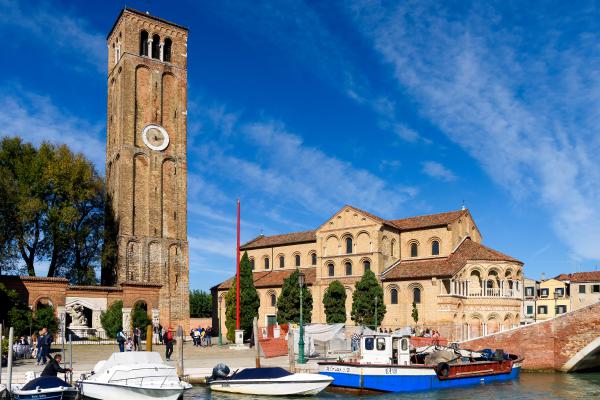 This is famous for its 12th century Byzantine mosaic pavement.
Chiesa di San Pietro Martire (Church of Saint Peter the Martyr)
Another church, this one dates back to the 15th century. You can find some artwork inside it.
Glass Museum
If you want an actual museum then the glass museum is the main one on the island. Find details here. Last admission at 4pm, so don't be late!
Common Murano Scam
When on the main island of Venice you may be offered a free boat ride to Murano. However you will be taken to a glass making factory in Murano, and the prices there are massively inflated. While this isn't the worst scam in the world (you don't have to pay!) they will do everything possible to keep you looking at their glass and it isn't just a free boat ride
---
Be the first to know about our other top travel tip blog posts: