From www.CompleteCityGuides.com
http://www.CompleteCityGuides.com/krakow/things-to-do/krakow-main-square
Please tell your friends about this page! Facebook message them this page so you can find it when travelling!
Krakow Main Square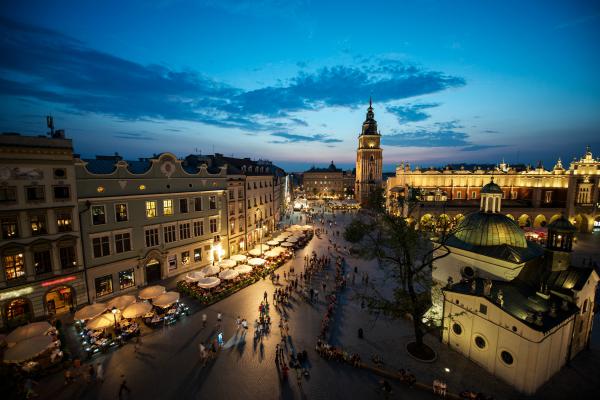 ---
The main square (known as the Rynek Główny in Polish) is the heart of Krakow. It is right in the middle of the old town area, and is one of the largest medieval town squares in Europe (at 40,000 square meters).
You can often find street performers, musicians and more performing in the square. There is also a well known and well loved Christmas market here every year. Every so often (once every 4-8 weeks) they have other speciality markets there too. And for New Years Eve there is always a huge party in the square with a big stage, and thousands of people attend it.
In the middle of the square is the cloth hall ("Sukiennice" in Polish). There is also the big "Town Hall Tower" ("Wieża ratuszowa"), the huge St. Mary's Basilica, a central Adam Micklewicz Monument, and the old 10th century Church of St. Adalbert.
You can find plenty of restaurants (with outside seating) on all four sides of the square. If you go into some of the back streets you will find plenty of popular bars, pubs and even more restaurants.
Address
Krakow Main Square, Krakow, Poland
---
Facebook
---
Map of Krakow Main Square in Krakow
Krakow Main Square, Krakow, Poland
---
Related Attractions in Krakow
---
Be the first to know about our other top travel tip blog posts:
Want to see more about Kraków?