From www.CompleteCityGuides.com
http://www.CompleteCityGuides.com/krakow/reasons-to-visit
Please tell your friends about this page! Facebook message them this page so you can find it when travelling!
5 Reasons to visit Krakow
Reason 1 to visit Krakow - The Old Town and The Main Square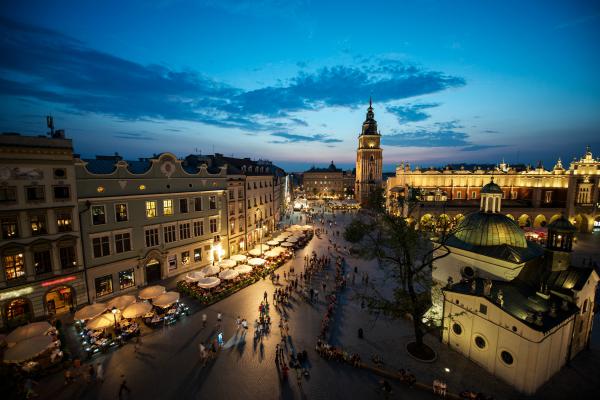 The old town is an amazing piece of history, and includes one of the biggest market squares (Krakow Main Square). Almost all tourists that come to Kraków will spend quite a bit of time in the old town area!. Explore the main square, wander down some back streets, check out the St. Mary's Church, the Cloth Hall and more.
Reason 2 to visit Krakow - It is very cheap!
Kraków is a very cheap tourist destination. A meal with a beer in a normal restaurant will cost about 25-30zl (just over $6, €5). You can get beers for 4zl in bars, but typically they will cost 7-9zł. Attractions such as Kraków Zoo are very cheap - it is 18zł (just over €4) for normal tickets. Busses/trams cost 2.80zł for 20 minutes, and taxis in the main tourist areas (such as going from the Old Town Main Square to Kazimierz will cost between 15-30zł with most taxi companies).
Reason 3 to visit Krakow - It is the perfect size!
Kraków as a city is huge (home to nearly a million residents), but tourists never get to see the huge size of it. The tourist areas (i.e. not residential apartment block areas!) are all very close, and you really can walk everywhere. You can walk from the old town/main square, down to the castle, check out the river, see Plac Nowy (a cool drinking/restaurant area in Kazimierz), walk up some of the mounds that they have in Kraków and you won't need to take a bus, tram or taxi at all!
Reason 4 to visit Krakow - The Nightlife Is Unbelievable
Kraków is famous for its awseome nightnife. There are pubs and bars everywhere (although they can be a little hard to find, as they do not always advertise and make it obvious where the bars are), especially in the Old Town and Kazimierz (Plac Nowy) area. The bars are cheap, most places are open very late (or are 24hr, even) and are busy even mid week. It is one of the few cities in Europe where you can have just as much fun on a mid week night as well as the weekend.
Reason 5 to visit Krakow - If you speak English, you will have no problems getting around
While we do have to admit that not everyone will speak English here, as a tourist you will face almost no problems if you don't speak Polish. Everyone under 30-35 years of age will speak English (they might not be confident in their English abilities, but they will speak and understand it). All the pubs, bars and restaurants in the tourist areas (such as Old Town) will speak perfect English. The only difficulties you may face is when dealing with taxi drivers, but if you have your destination written down on a piece of paper you will have no communication issues
---
Be the first to know about our other top travel tip blog posts:
Want to see more about Kraków?